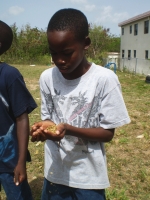 For the second year in a row, the V.I. Sustainable Farm Institute (VISFI) on St. Croix has been nominated in the annual National Geographic Geotourism Challenge, one of 10 finalists out of 611 contenders worldwide.
Representatives of the farm institute ask that people to go online and vote for VISFI. Votes may be cast through Aug. 12 at http://geotourism.changemakers.com/geotourismchallenge or http://www.visfi.org/. The top three winners will each receive $5,000.
The National Geographic Geotourism Challenge promotes innovations that benefit local communities and cultural landscapes in tourist destinations. The 2009 theme is "The Power of Place: Sustaining the Future of Destinations."
The St. Croix farm was selected by a panel of judges that included Nobel Peace Prize Winner Dr. Wangari Maathai, founder of the Green Belt Movement, and Keith Bellows, editor of National Geographic Traveler.
"Our featured entry is about how farm-based education can be used in a structured format to teach about self-sustainability and cultural identity, and promote healthy development," said Nate Olive, program co-founder and VISF program director. "The real winners of this program, regardless of the outcome of the contest, will be the children we interact with daily."
The project model is called Natural Mentors, a four-part program about nature survival, environmental awareness, organic-food production and mentoring relationships.
More than 900 V.I. youth have experienced it this year, in collaborative efforts between VISFI and Crucian Heritage and Nature Tourism (CHANT); Anne Marie Gibbs and students at Complex High School; the Community Foundation of the Virgin Islands; Lana Vento Charitable Trust; and the V.I. Department of Tourism's "My Community" program.
According to the VISFI website (http://www.visfi.org/), the Natural Mentors (NM) innovation is a working example of how ancient knowledge can be used in modern applications to provide sustainable-development solutions for the modern and future society. NM facilitates cultural exchange and nature awareness through a youth excursion certification program and volunteer-vacation experiences for traveling groups from abroad.
Youngsters from the 4-H summer academy, sponsored by the University of the Virgin Islands cooperative extension service, recently visited VISFI. They took part in hands-on activities such as lessons on composting and creating healthy soil for healthy plants.
"With these activities, we are planting the seed of technology with youth," said Rey Mercado of VISFI.
Students picked up handfuls of soil and were taught how to note its rich dark brown color, its smell, its texture and its moistness.
"I didn't mind picking up the composted dirt — even if it had bugs in it," said Maya Liburd, a 4-H camper. "They said bugs can be good."
Lois Saunders, associate director of 4-H/family consumer science UVI cooperative service, said they always focus on what is current within the world and the focus now is the environment and going green.
"In our unique part of the world, the focus is exposing children to agriculture," Saunders said.
The VISFI is located on more than 100 acres in the rain forest on St. Croix.
"A vote for this program is a vote for future generations," Olive said.