A scarcity of professional, certified interpreters and translators hampers medical care f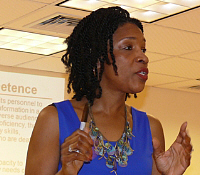 or patients throughout the Virgin Islands, according to nurses and health care professionals on St. Thomas and St. Croix.
Tawara Goode, director of the National Center for Cultural Competence at Georgetown University in Washington, D.C., led three days of seminars with health officials on St. Thomas and St. Croix this week on how to treat people with different cultures, backgrounds or languages. Personnel, most of them nurses, from St. Thomas East End Medical Corporation, the Department of Health on St. Thomas, Head Start, Roy Lester Schneider Regional Medical Center and the Charles Harwood Medical Center and Frederiksted Health Center on St. Croix took the training seminars.
While language barriers, interpreting and translation were only a small part of Goode's broad inquiry into cultural issues affecting health care, nurses and care providers, at all three meetings nurses said they were continually frustrated by a lack of adequate interpreting services.
At Charles Harwood, for instance, Wanda Navarro is the only certified Spanish language interpreter available, and Navarro is actually with Virgin Islands Perinatal, Inc., a non-profit organization, and does not work for the Health Department or Charles Harwood. V.I. Perinatal, whose mission is to improve pregnant women's access to health care in the U.S. Virgin Islands and promote women's reproductive health and rights, sponsored Goode's series of training lectures.
"We used to have a group of competent Spanish-speaking nurse interpreters, and now it is only (Navarro) and she is very busy and can't be everywhere," said Jacqueline Canton, a registered nurse at Charles Harwood, during Friday's meeting. "It is the same with people who speak patois. Luckily we have a few nurses who do that, but it is a huge problem. When you come in, there is no one at the desk that can assist you, help you know where to get care, and it becomes frustrating for the client."
Jessica Rodriguez, a nurse at Frederiksted Health Center, agreed.
"Sometimes it becomes a problem if there is no one there to interpret what the doctor is saying and do it well, not just picking someone at random who might be able," Rodriguez said. "You can't expect a patient to be compliant if they didn't really know and understand the doctor's instructions."
The attendees in all three sessions said their organizations did not employ translators – rather, staff would often step in to translate if they knew the language that the patient spoke. Goode warned them that by doing so, unless their job title specifically states they were hired to translate, they risk being sued because federal law requires every organization that receives federal funds to have a plan to ensure there is access to interpreting services for the languages commonly spoken nearby.
"If you are certified and it is part of your job description, then you are covered by insurance and protected by the law," Goode said. But if it isn't part of your job description, you are liable.
Often, ad hoc interpreters may speak a language fluently but not understand specialized medical terminology in both languages well enough. Or providers may here a patient speak a few words or sentences in English and wrongly assume they can read and write English fluently, Goode said.
At one of the St. Thomas seminars, Vania Victorine, an LPN at St. Thomas East End Medical Corporation, said her organization often treats patients that are Haitian or speak Spanish and as she speaks patois, she would often help interpret for Creole patients. After Goode's seminar, Victorine said she would no longer be doing so.
"I'm not going to do a lot of the things I used to do before," she said. But she worried she could cause problems in her workplace by not cooperating. Like participants at all three seminars, Victorine said it would be easier to change interpreting procedures if administrators attended the sessions as well as nurses and line employees.
Scarce resources were cited by many participants as the main reason they did not have better language services. Goode said federal law does not have an exemption for scarce resources and a lawsuit could consume a lot of scarce resources.
While not the most popular interpreting solution with patients, "there are telephonic interpreting services that are both very effective and cost effective," Goode said. A doctor can call the service, speak into the phone and a certified interpreter based somewhere else can communicate with the patient.
Goode touched on many other cultural issues in health care, focusing her discussion on raising awareness of how to anticipate and avoid communication and health care problems that can arise from serving clients of different religions, ethnicities, socio-economic backgrounds, age differences and even personal value systems than those of the care providers.
Among those subjects, however, none raised nearly so much concern from participants at all three sessions in both territorial districts as the scarcity of qualified, certified Spanish and patois interpreters.
Results from the 2000 Census showed that there are 25,319 Virgin Islands residents who speak a language other than English. Census data shows that 16,788 speak Spanish, 6,578 speak French or Creole, 1,043 speak another Indo-European language and 262 speak and Asian or Pacific Island language. The data does not account for those who may not respond to the census because they may be living in the Virgin Islands illegally.