Local news — St. Thomas
Dominica PM Turns Up at Kean School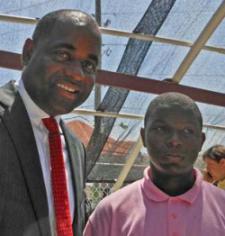 When 15-year-old Ivanna Eudora Kean High School sophomore Clemon Lewis set off for school Friday morning for the Tilapia Aquaponics Farm Workshop, the last thing he expected was being photographed with Dominica Prime Minister Roosevelt Skerrit. But you just never know.
Skerrit paid a surprise visit to the school, accompanied by principal Sharon-Ann McColllum, who surprised everyone gathered for the workshop with her announcement of the distinguished guest.
Skerrit graciously posed for photographs, and engaged some of the students in conversation about the project.
He said he was impressed by the project. "It's a new way of accessing food products. Anything we can do to increase food production is important." Noting Dominica, known as the green island with 365 rivers, has a lot of rainfall, he said, "We should try to emulate the technology. This school should serve as a model."
According to a Government House release issued later in the day, Skerrit met with Gov. John deJongh Jr. at Government House.
"The two heads of government discussed issues of common challenge given the lingering global economic recession, the impact of the recession on airlift into the Caribbean, the need for continued resort development and increased cruise ship traffic at Caribbean destinations. Also discussed were the common ties between the island nation of Dominica and the U.S. Virgin Islands," the statement said.
And about that visit to Kean. The Source doesn't really know how that came about, and Lewis says he doesn't have a clue. Speculation was that one of the Kean parents may have invited the prime minister. But you just never know.