Local news — St. Thomas
Chamber Speakers Focus on Economic Challenges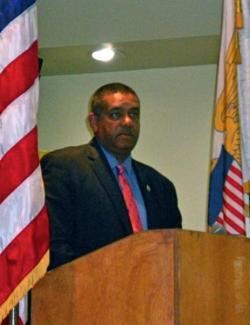 The economic woes besetting the U.S. Virgin Islands require new approaches to problems, according to Gov. John deJongh Jr. and Sebastiano Paiewonsky Cassinelli, the newly elected president of the St. Thomas/St. John Chamber of Commerce.
The two spoke Friday at the chamber's annual membership luncheon meeting at Mahogany Run.
Financial problems facing both the public and private sectors require new approaches to problems, the governor told the approximately 75 audience members.
"It cannot continue to be business as usual. We cannot continue to do the things we've done," said deJongh. "It's up to us to decide the course that we're going to channel."
The closure of the Hovensa oil refinery on St. Croix struck a double blow on the territory, deJongh said. The V.I. historically has depended on fossil fuels for about 95 percent of its energy needs, deJongh said. That fuel was supplied by Hovensa, and refined by more than 2,000 employees who since the April closure have either begun receiving unemployment or left the islands altogether.
The chamber president warned the impact of the closure is only just beginning to be felt.
"The pain of Hovensa's announcement has only begun, as the Hess employees and contractors are still living on their severance packages, and our entire community is still benefiting from discounted oil to WAPA," said Paiewonsky Cassinelli.
In an effort to diversify the territory's energy supply, the Water and Power Authority has completed negotiations to produce 18 megawatts of solar energy, ultimately covering about 14 to 15 percent of WAPA's peak demand. Wind energy and a conversion of WAPA's fuel oil powered generators to less-expensive natural gas are also in the works or being considered, the governor added.
The Government Employees Retirement System's unfunded liability is another problem that must be faced, deJongh said. Month after month GERS pays out more in benefits than it takes in in donations, and it has more obligations looking forward than it has resources to meet them.
DeJongh assured the chamber members the government will work to close gaps in the system, while Paiewonsky Cassinelli warned the effect of the GERS on the government could slow an already sluggish economy.
"Our government is going to see a steady decline in the availability of its resource as scarce dollars are funneled into fixing its public pension system," the chamber's leader said, saying that the government is in a "retrenchment mode" that it will likely not pull itself out of for years to come.
Paiewonsky Cassinelli assumed the office of president of the chamber for a two-year term. Also elected to chamber offices were: first vice president/president elect, Cecille deJongh, and directors Richard N. Berry, Dexter Freeman, Cerene Southwell Johnson, Judi Nagelberg, Vernon Arujo, Mike Daswani, Shane Gaspard, Steve Morton, Ansen Sligar, John P. Woods and Mulo Alwani Consultant.