Local news — St. Thomas
Temporary Generator Arrives at WAPA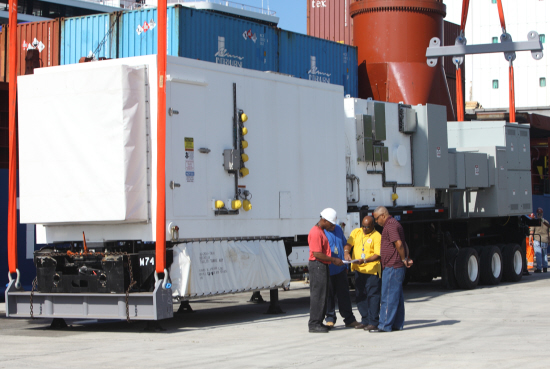 A massive, nearly 100-ton gas turbine generator was delivered to the V.I. Water and Power Authority's Randolph E. Harley Power Plant Friday, where it will be installed as a stopgap measure as other equipment is overhauled.
According to Executive Director Hugo Hodge Jr., the 22-megawatt (MW) mobile power plant and water treatment system leased for the next 18 months from General Electric International, Inc. will be installed and operational by the end of May. WAPA's governing board approved the lease at an emergency meeting in February as the most feasible option to expedite a solution to St. Thomas' power issues.
The need is urgent and the permitting process for a temporary unit is a much shorter and less expensive process, Hodge said.
Hodge said that during the period temporary Unit #25 will be in service, engineering teams will be working to complete repairs to Unit#23, a 42 MW gas turbine. That turbine was forced back into operation ahead of schedule after last year's major inspection and overhaul because other units in the plant had limited availability.
Unit #15, a 20 MW gas turbine is currently on an outage schedule in preparation for a planned inspection and overhaul. Hodge said that WAPA will complete those repairs, and perform the needed preventive maintenance on Harley's other generation units, which has been deferred over the years for various reasons beyond the authority's control. Once all repairs are completed, a stricter corrective and preventative maintenance schedule will be implemented and the Harley plant will also have reserve generating capacity, if needed.
The lease agreement is at a cost of $14.6 million. The board agreed that permanently investing in a gas turbine that could cost up to five times more to purchase would be a costly option and not in line with the utility's plan to reduce its use of fuel oil in favor of alternative energy sources, said Hodge.
According to Chief Operating Officer Gregory Rhymer, while the unit was en route from Houston, Texas, plant personnel were preparing the infrastructure including a concrete foundation on which the generator will sit and then be tied into the existing system. The 191,000 pound unit which was off-loaded from the Crown Bay dock this morning by two large cranes, made its way slowly to the power plant on a 75-foot-bed trailer and arrived by early afternoon. Additional trailer containers with auxiliary parts also arrived on the same cargo ship.
"The installation of the temporary generator is the critical step forward in WAPA's short term plan to stabilize the Harley plant and improve service reliability to our customers. We've had our challenges over the last year and nobody could be happier than our hard-working employees that things are about to change for the better," concluded Hodge.