Local sports — St. Thomas
V.I. Junior Little League Team Advances to Regional Final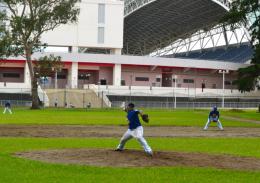 The Virgin Islands Junior Little League team defeated Panama, 3-2, on Friday in the semifinal round of the 2012 Latin American Regional Junior Little League tournament in San Jose, Costa Rica.
The win puts the Virgin Islanders in the regional final, against Aruba
Pitcher Taj Thompson gave up two runs in the first two innings, allowing Panama seven hits. Only one of those runs was earned. But then he settled down and allowed just four more hits for the game, holding Panama scoreless the rest of the way.
Thompson ended the game with a bang as he struck out Panama's cleanup hitter with two runners on in the final inning.
Gweshaughn Richards hit a solo home run over the left-centerfield fence in the bottom of the second inning to cut the Panama lead in half, 2-1. He then hit a two-run double with bases loaded in the bottom of the fifth to give the Virgin Islands the lead and final score of 3-2.
The other semifinal game saw Aruba blank Puerto Rico, 2-0. The Virgin Islands is one win away from earning a berth to the Junior Little League World Series, which takes place in Taylor, Michigan.
The championship game will begin at 11 a.m. AST.
Earlier in the week, the Virgin Islands beat Aruba, 5-1 Wednesday to claim the top seed in Group 2. However, the score does not tell the story of the game. Though they held a four-run margin of victory the Virgin Islands won Group 2 by a razor thin margin in the Runs-Allowed Ratio. That RAR was preserved thanks to Virgin Islands centerfielder David Nicholas, who throw out a potential second run for Aruba in the bottom half of the sixth inning.
So at the end of group play three times were tied at the top of Group 2 with 4-1 records – the Virgin Islands, Aruba and Curacao. But the Virgin Islands RAR was .454545, a whisper better than Aruba's .48387097 and Curacao's .53125. So the Virgin Islands finished on top of Group 2 pool and played Panama, the second-place team from Group 1.
The Virgin Islands lost their first game of pool play to Curacao 9-8, in extra innings on Saturday. They rebounded to defeat Guatemala 18-0 on Sunday, Costa Rica 12-2 on Monday, Nicaragua 5-3 on Tuesday and then Aruba on Wednesday.
The Virgin Islands lineup is batting .407 and holding their opponents to a .252 average. Four of the team's pitchers have not given up an earned run in the tournament, while two others have earned run averages below 2.0 The team ERA is 2.31, and the staff has only given up two extra base hits, both doubles.