Local news — St. Thomas
Morning Walk Raises Funds for Clear Blue Sky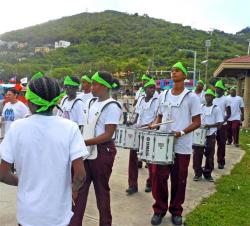 Mandela Circle awoke on a overcast Saturday morning to the sound of 50 or so marchers, wearing blue and white T-shirts set off by bright green scarves, who were taking "A Mindful Walk" to the Frenchtown Post Office and back to benefit Clear Blue Sky.
Clear Blue Sky Inc. is a not-for-profit that supports people with mental illness. It provides a place of structure and support, a place where people recovering from mental illness can shed its stigma and work their way back into their community and live full lives again.
The marchers were kept in brisk step by the rhythms of the Addelita Cancryn Junior High School 21st Century Band, led by bandmaster Caroline Pickering.
"They were supposed to be here early, but they all got here ahead of time, before seven, and began practicing," said the bandmaster of the after-school program band, which is entering its second year.
Saturday's event was Clear Blue Sky's third annual Walk-a-Thon. Things got under way at about 7 a.m. for the 8 a.m. walk, with founder Arlene Monaghan, secretary Luz Moron and a bevy of helpers setting up registration tables, sorting T-Shirts, and in general rallying the troops.
Clear Blue Sky provides people with mental illness a place to go in the morning, something to do and a place to do it in.
That place took a dramatic turn around the first of the year when it inherited the historic Villa Fairview on Catherineberg, just a few doors from the governor's official residence. Formerly the clubhouse, as it is known, was in modest space on Solberg Hill.
The Legislature appropriated $250,000 for the Villa Fairview purchase, but a lot more will be needed to turn its labyrinth of rooms on multiple levels into usable space, while preserving the architectural history of the structure, Monaghan noted. She said the money raised Saturday will be used to maintain the rambling old guest house.
"It's a major project. It's beautiful, but it needs work," she emphasized, while singing the virtues of architect Kevin Qualls, who volunteers his services.
"We have phases," she said, "demolition of some parts, and the restoration of others. We want to change the buildings' colors but we must consult the Historic Preservation Commission for any changes."
As she spoke, Qualls showed up, paying his $10 and donning a new T-Shirt. Qualls says he sort of fell into the work, guided by a friend, but he obviously is very happily involved.
"It's a challenge," he said, "a good one."
Moron said she hoped more parents would show up for the walk Saturday.
"Our program teaches families how to better cope with their loved ones suffering from mental illness."
Since January 2005, the organization has improved the lives of more than 80 adults with serious and persistent mental illnesses through two programs: The Clubhouse, a community center that provides a safe, nurturing, non-institutional setting for psychiatric rehabilitation, and Karen's House, its supported residential facility.
Just in time before the marches set off, a representative of Choice Wireless arrived bearing a stack of the bright green scarves, which Moron and Monaghan were delighted to receive.
"Choice donated our T-shirts, too," Monaghan said.