Local news — St. Thomas
Faye Richardson Named Teacher of the Year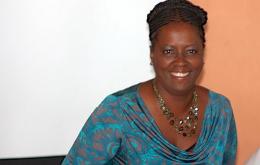 Faye Richardson was named the 2013 teacher of the year for the St. Thomas/St. John District at a luncheon Sunday, the Department of Education announced.
Richardson has taught at Ivanna Eudora Kean High School for 26 years. She currently teaches Virgin Islands history and Advanced Placement psychology, and is ninth-grade team leader.
"Knowledge, through a good education, is key to leading a productive life," the honored teacher said.
Her teaching philosophy encompasses three basic beliefs: that a rigorous classroom experience, which stresses both academics and creativity, is critical to learning; that motivated students strive to excel; and that a well structured classroom that is both physically and emotionally pleasing, helps drive the educational process.
"I think that I have been teaching all my life," Richardson said Sunday. "And at Eudora Kean, my goal is to see the school shine, and shine through the successes of the students."
Kean High's principal, Sharon McCollum, said Richardson can best be described as an "eternal flame."
"She's that quiet fire, that quiet storm that ignites learning in her classroom," McCollum said.
Along with Richardson, Kisha Corbett of Addelita Cancryn Junior High, Kalisha Mathurin from Julius E. Sprauve School, Lillian Moolenaar at E. Benjamin Oliver Elementary and Major Gregory Cochrane, senior Army instructor and JROTC battalion leader at Charlotte Amalie High School, were honored Sunday as finalists for the teacher of the year honor.