Local news — St. Thomas
Central High Students Grill Candidates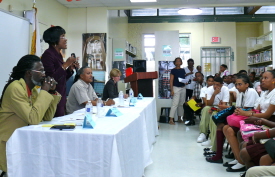 High energy costs, improving the schools and senatorial misuse of funds were on the minds of St. Croix Central High social studies students who got to pose their questions to 26 St. Croix senatorial and three congressional candidates at an all-day candidate forum Friday.
The candidates appeared in a series of panels over the course of the day, with groups of about 200 students coming in turns to the forum instead of their usual social studies class. All the questions were composed by social studies students and selected at random from a bag.
In some areas, the candidates differed little. Everyone asked, for example, agreed the territory needs to move away from its reliance on oil, with many saying a new power plant is in order. And for the most part, the candidates agreed that more funding should go to vocational education, after-school and enrichment programs and college scholarships.
And everyone, including several incumbent senators, agreed that any senator who illegally pocketed cash should be prosecuted, although sitting senators were understandably more defensive on the topic than challengers.
Students asked if there should be prosecutions or efforts to recover the money, "if it is determined senators did misuse $6.9 million," a figure derived from a 2011 audit of the Legislature which found improper cash advances, improper single source contracts and other financial mismanagement.
"That $6.9 million was like a slap in the face to the people of the Virgin Islands," said candidate Diane Capehart. "What is good for the goose is good for the gander, so I would support some kind of ethics committee to give some accountability, so when you take a trip, you show what you spent the money on," she said, echoing similar comments made by many of the challengers, from George Moore to Arthur Joseph.
Incumbents also agreed there should be repercussions, but insisted they personally were not the problem.
"Yes, if you take what doesn't belong to you, you should be treated like everyone else," said Sen. Neville James, a four-term incumbent. But there needs to be a case-by-case determination of how money was spent and if it was done wrongfully, he said. "I can say as a member that was not the case in my office," he said.
Sen. Nereida "Nellie" Rivera-O'Reilly emphasized legislation she sponsored to require all government agencies to report all their finances and publish them online, and pointed to her own efforts at transparency. "My office's budget information is available on my website," O'Reilly said. "I have not misspent one single dollar. ... You can visit my website at usvisenate.org and access my budget and my travel information," she said.
Sen. Ronald Russell, who unsuccessfully filed court motions to keep the details and names of senators implicated in the 2011 audit confidential, also agreed any improprieties should be prosecuted.
"There is an investigation going on right now and it is being handled by prosecutors," Russell said. "If anybody is found to have done anything wrong, they should be prosecuted and will be prosecuted."
Russell said he filed motions to block a V.I. Daily News suit to force the disclosure because he felt it was an "overreach" by the Daily News. Russell also argued the idea that $6.9 million was misused by senators was very misleading, saying $4.5 million of that sum actually went to fix buildings, another $1.7 million went to pay vendors "and only $600,000 was used for cash advances."
Sen. Alicia "Chucky" Hansen emphasized that she was out of office during the period covered by the audit. Hansen left office in 2004, after being charged with felony public corruption. She was ultimately convicted of three counts of failure to file an income tax return, and was re-elected in 2010.
"But also remember no one is guilty until proven guilty," Hansen said. "Watch out for someone always accusing someone of thieving – normally they are the thief."
When it came to high energy costs and the controversial Levelized Energy Adjustment Clause, most of the candidates suggested getting bonds to purchase a new power plant. Other suggestions included allowing other companies to compete with the V.I. Water and Power Authority, purchasing solar panels, converting generators to run on natural gas – most of which are variations on several plans currently being pursued by WAPA.
Several candidates suggested having the government pay its past due utility bills would help reduce rates. Past-due government bills place a burden on the utility, reducing its cash flow and delaying maintenance. But candidate Judi Fricks-Buckley pointed out that the government recently used bond revenues to pay WAPA and "today the government owes $3 million and are paying down their bills."
She sounded a note of optimism, predicting that rates may go up a bit more, but should start to come down next year as WAPA's 20 megawatt solar project comes online and it converts some generators to cheap natural gas.
Hansen, striking her own path, insisted that customers should not have to pay for the fuel used to generate the power, but instead WAPA should somehow absorb that cost.
She argued the LEAC is unjust because it is expensive, and only the cheaper base rate counted as "consumption."
"It is Nazi. It is unheard of anywhere under the American flag," she said of the fuel surcharge. In fact, it is a common part of many U.S. utility bills, but is much lower in places that do not rely on expensive fuel oil for energy production.
Hansen pointed to a lawsuit she filed against a past LEAC increase, and said Hovensa was required to provide fuel at a discount for the next ten years. Her suit was tossed out of court earlier this year. (See related links below.)
Most of the other candidates dismissed the idea that paying for fuel could be somehow avoided, focusing instead on moving to different sources of energy.
"Every utility has additional charges for fuel. In a lot of states they adjust it on a monthly basis, while we adjust in on a quarterly basis," said candidate Samuel Baptiste, who went on to suggest approaching Hovensa about using its existing multi-fuel generators and then using then with a cheaper fuel, such as natural gas.
"We need a new power plant that operates on something other than oil," said Sen. Terrence "Positive" Nelson. "We should have started on this new power plant 10 or 15 years ago but we did not. So we have to go forward."
"WAPA only utilizes one natural resource: oil," said candidate Arthur Joseph. "So it looks like we are dead in the water," until the territory moves to another mode of power generation, he said, suggesting the territory declare an energy state of emergency and ask for federal assistance.
"The LEAC allows WAPA to recoup the cost of fuel," said candidate Jay Watson, dismissing the idea that it could be avoided. Instead, Watson said, "we need to build two new power plants. We need to float bonds or if we cannot, we need to lobby Congress for help. But there is no quick fix."
The questions and answers continued all day, with five panels of candidates each talking for about an hour. The questions were asked by Central High students Zhane Blaire, Patrice Gumbs, Justin Davis, Satchel Francis, Jahreem Thompson, Johnathan Garcia, Petena Thomas and Shanice James.