Local news — St. Thomas
John McCleverty, Tireless Promoter of the V.I., Dies at 89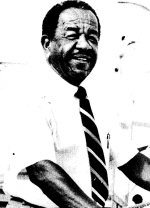 John McCleverty, whose name graces the Welcome Center at the Havensight cruise ship pier, died Thursday at home on St. Thomas after a long illness. He was 89.
"He did a lot for the Virgin Islands," his wife of 33 years, Edna McCleverty, said Friday.
Known as "Mr. Cruiseship," McCleverty worked hard to strengthen the island's cruise ship industry.
McCleverty's tenure in what is now called the Tourism Department was during the period when the territory gained the distinction of being the number one cruise destination in the entire Caribbean, Sen. Shawn Michael Malone said.
"As I honor his memory, I pay tribute to a Virgin Islander who served as a goodwill ambassador who loved these islands and worked tirelessly to make it a better place to visit, live and enjoy," Malone said.
Delegate to Congress Donna Christiansen said McCleverty added color to the Tourism Department in its promotion of the Virgin Islands.
"He was instrumental in the establishment of the U.S. Virgin Islands as a leading tourist destination," Christensen said.
He joined what was then called the Commerce Department in 1969. He started working at the Labor Department in 1968 after returning from a 17-year stateside career in show business as a member of the Johnny McCleverty Calypso Band and the Fabulous McClevertys. He appeared on the Ed Sullivan Show and the Jerry Lewis Muscular Dystrophy Telethon.
In earlier years, he had a group called the Conjunto Tropical that played on St. Thomas and St. Croix.
In a 1987 interview, he recalled the day in 1978 when the cruise ship Angelina Lauro caught fire at the dock while he was in charge of cruise ship activities and special promotions.
Malone called McCleverty a mentor, advisor and dear friend. Malone said that McCleverty was a good friend of his late father, musician Roy Milton Malone, and provided him with sage advice throughout their association.
Gov. John deJongh, Jr. said McCleverty was one of the greatest and most beloved promoters of the territory's tourism industry.
"John B. McCleverty was many things—a successful businessman, wonderful musician, public servant—but above all he was a loving family man who was cherished across the islands for his warmth, humor and wisdom," the governor said.
Malone said McCleverty also served as chairman of the British Virgin Islands Authority and had business interests that included Havensight Pharmacy, The Delly Deck in Havensight Mall and the Cyril E. King Airport concessions.
In addition to his wife, McCleverty is survived by children John McCleverty Jr., Joanne McCleverty and Monique McCleverty
His wife said funeral arrangements are pending.