Local news — St. Thomas
Chiropractors in Focus for Health Month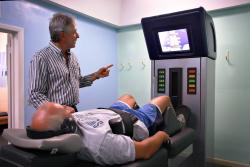 As many who have experienced intense back pain and some restriction of movement from spinal compression know, sometimes a chiropractor can help restore motion and get pain under control without drugs, while a regular medical doctor has little to offer but oral narcotics.
To recognize the benefit provided by these alternative treatment practitioners, Gov. John deJongh Jr. signed a proclamation earlier this month declaring October as "Chiropractic Health Month" in the U.S. Virgin Islands. The V.I. proclamation mirrors nationwide declarations, promoted by the American Chiropractic Association, the largest national body representing the profession.
"Chiropractic is one of the few drugless medical profession," said Dr. Doug Menzie, who has been practicing chiropractic on St. Croix since 1983, while describing the field to the Source this week. "We have the philosophy that the body can heal itself with proper nutrition and care in most situations," he said.
"There are times when it can't, say after a car accident or severe injury or illness, but other times it can heal itself," he said. Menzie founded the Caribbean Health and Fitness center at Beeston Hill.
While often associated with spinal manipulations, chiropractic doctors work on the whole body, in a fashion parallel to the practices of osteopaths, he said. Where osteopaths focus on circulation, chiropractors focus more on the nervous system, he said.
"The main job of a chiropractor is to analyze nerves system and if it is impeded, we work to solve that interference," he said "We work with the spinal cord but also joints in the extremities. Often injuries change the motion of joints. We work to increase or normalize the motion."
Often this means work with the spine, to help alleviate the pain and loss of motion caused when injuries, scar tissue and compressed vertebrae impinge upon the nerves in the spine itself and where they exit the spine and lead off into various parts of the body, Menzie said.
"With injury, those exit areas get impinged upon and you get pain or lack of motion, weakness and atrophy," he said. "Our job is to reestablish the normal motion, so the body can again function normally."
Chiropractic training is very similar to that in other medical professions, according to Menzie and the ACA. Before they are allowed to practice, doctors of chiropractic must pass national board examinations and become state-licensed.
Chiropractic colleges also offer post-graduate continuing education programs in specialty fields ranging from sports injuries and occupational health to orthopedics and neurology. These programs allow chiropractors to specialize in a health care discipline or meet state re-licensure requirements, according to the ACA.
While courses in anatomy and other areas are very similar there are differences. One difference between medical doctors and chiropractic doctors is that chiropractors finish up their curriculum in outpatient clinics rather than with hospital residencies, Menzie said.
"We have more study involving physical therapy, but less pharmacology because we do not prescribe," Menzie said. "They have more pharmacology; we have more focus on nutrition, exercise, that kind of thing," he said.
Menzie said he got into the field because of pain from a high school football injury that regular medical care had not alleviated. "It turns out it was a nerve impingement," Menzie said. "I went to a chiropractor and one adjustment fixed it. That opened my eyes that there were other types of treatment I hadn't heard of yet."
The roots of chiropractic care can be traced all the way back to the beginning of recorded time. According to the ACA, Chinese writing from 2700 B.C. and Greek writings from 1500 B.C. mention spinal manipulation and the maneuvering of the lower extremities to ease low back pain.
"Get knowledge of the spine, for this is the requisite for many diseases," wrote Hippocrates, the ancient Greek physician considered the founder of the practice of medicine who lived from 460 to 357 B.C., according to the ACA.
In 1895, Daniel David Palmer founded the chiropractic profession in Davenport, Iowa. In 1897, Palmer began the Palmer School of Chiropractic, which has continued to be one of the most prominent chiropractic colleges in the nation.
Throughout the 20th century, doctors of chiropractic gained legal recognition in all 50 states. A continuing recognition and respect for the chiropractic profession in the United States has led to growing support for chiropractic care all over the world.
For this year's observation of Chiropractic Health Month, the American Chiropractic Association has set the theme as "Find Your Game," which means achieving optimal function at any level of fitness for everyone – young and old – from athletes to office workers.
"Celebrating Chiropractic Health Month each October serves as a reminder to all Virgin Islanders that they, too, can 'Find Their Game' and perform at their best with the expert care and services provided by the territory's chiropractors," deJongh said in a statement from Government House.
There are 18 practicing doctors of chiropractic in the territory, with an average of four care providers being added each year, Government House said.