Local news — St. Thomas
For Homeless, A One-Stop Shop for Caring and Connecting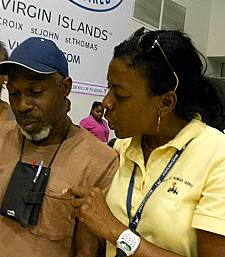 It's one "Day of Caring" that takes months of planning, said organizers of the 6th Project Homeless Connect Friday at the University of the Virgin Islands Sports and Fitness Center.
The program offers the V.I. homeless population a variety of services along with volunteer escorts to help them wend their way through the thicket of information available; about 30 agencies, public, private, not-for-profits, and individuals come together for the one-stop-shop.
The project is sponsored by United Way of St. Thomas/St. John and the Department of Human Services.
Seated at the reception table with Michael Akin of Catholic Charities, United Way's Executive Director Cherise Creque-Quain spoke of the program's inception.
She said the idea grew from a 2007 meeting of the Virgin Islands Interagency Council on Homelessness where Phillip F. Mangano, the executive director of the national ICH, talked about the project. It started in San Francisco in 2004 to provide a single location where nonprofit medical and social service providers collaborate to serve the homeless of San Francisco with comprehensive, holistic services.
"I knew this was what we needed," said Creque-Quain. And, before the year was out, St. Thomas had its own project at Lionel Roberts Stadium. It moved to UVI the next year.
Transportation to the event is provided by Dial-A-Ride and Catholic Charities Bethlehem House.
The project offers everything from ID cards, to massages, medical testing blood sugar to prostate and OB/GYN screening, yoga, haircuts, showers, free phone calls and HIV testing.
One of the most important offerings of the project, said Human Services Commissioner Chris Finch, is the ID cards. The responses of the clients bore out Finch's comment, as they proudly flashed their new ID's to each other.
Escorts Marvin Blyden and Jacqueline Frederick were guiding five clients through the maze of services. Some of the clients were eager to explain they were not technically homeless. Shane from St. John said, "We live on a boat in Coral Bay. Things are very slow right now. My wife makes hot sauce, but I don't have work right now."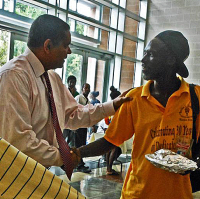 He indicated his wife, who was getting a haircut from Annette Zachman of Phoenix Visions Hair Design. "This is great for us," he said.
Sporting an Obama T-shirt and singing a Bob Marley melody, Irvin of St. John was a happy guy. "They call me 'Hollywood,'" Irvin said. "I sing and play guitar. Right now I'm between gigs."
Meantime, Irvin and the others got brand-new ID's, food stamps, medical testing, haircuts for themselves, and a good lunch, which was supplied all day.
Celia Victor, leader of the medical team, praised the medical personnel who closed offices today to donate their time, "We are so blessed in this community," she said. "We have had prostate screening and today we have OB/GYN and dentist Dr. Griffith is donating his time."
The petite doctor is one of those people who manage effectively to be in several places at once. "All the pharmacies on the island have helped so much. They donated everything we needed, and the medical labs have volunteered to do follow-up work," she said.
Victor's attention turns to a new arrival – yoga instructor Jane DiCola who has arrived with a hefty duffle in hand, stuffed with yoga mats, and sets her up in front of the stage, where before long the mats find occupants.
Retired psychotherapist Eunice Summer sat at a table positioned for privacy and did what she does best, listening to people with a professional ear.
On the lighter side of things, Chandra Kean conducted a beauty clinic with Mary Kay products, the project's first. "I do this as a hobby," Kean said. "I began thinking what a good thing this would be for the women here. My colleagues helped, donating makeup kits, even foot products."
Nearby, Debra Martinez of Lazule Sea Spa from Frenchman's Reef was giving a chair massage to Leonard Matthews. "It's wonderful, so relaxing," he said to a satisfied-looking Martinez.
Keeping as low a profile as a governor can, John deJongh Jr. was helping folks at check-in, in the lobby, when Creque-Quain approached him to say a few words to all the many agencies, all the people giving their time.
"This day is so important," the governor said in remarks to the group. "Everyone here is part of what makes our community so special, that we come together like this to help each other," a comment heard often throughout the busy day.
Meantime, Ivanna Eudora Kean High School students darted throughout the enormous gym, bringing lunch to the service providers. IEK senior Shantal Powell, explained her position. "We aren't old enough to be escorts yet," she said, 'but I am learning so much about people, how to give back to my community."
Family Resource Center director Vivian St. Juste Center, said, unlike the IEK students, "I didn't get the concept of service growing up here. It was only after I went to school in the States. It's wonderful to see these teenagers now."
Creque-Quain, for whom service must be a mantra she was born with, concurred. "That is the reason I like for the students to be here," she said, "Service. We all need to take care of one another. You can see in their faces, sometimes there's an 'aha' moment, when they really see what it's all about.
"Even if you do the right things., you can still wind up homeless," she said. "There are lots of things that can go wrong in life, out of your control – loss of a job, serious illness. Everyone here today cares. That is what it is about; service."
Clients didn't leave empty-handed. Creque-Quain said Human Services had supplied 200 pairs of sneakers, as well as the clothing they offer each year, free to all. Speaking later in the day, she said they had served 229 clients Friday. "It's a record," she said with pride. "Last year was 200."
The project moves to St. Croix at the Rudolph Shulterbrandt Agriculture Complex form 9 a.m. to 3 p.m. Oct. 19, and Oct. 26 on St. John in Cruz Bay.