Local news — St. Thomas
V.I. Joins Nation Reading Children's Book Together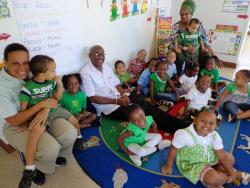 Children throughout the territory joined their parents, teachers and peers across the nation in reading the book Lady Bug Girl and the Bug Squad by David Soman and Jacky Davis last Thursday as part of the annual Read for the Record literacy campaign.
One day each year, millions of individuals jointly celebrate literacy and early childhood education efforts through the campaign spearheaded by the nonprofit Pearson Foundation.
More than 2 million people participated in this year's national literacy effort, according to Cecile deJongh in a statement from Government House. "We know now more than ever that engaging young children from birth in reading and educational activities provides a foundation for healthy brain development," she said, adding that she was proud of every Virgin Islander who participated in the effort.
Read for the Record works to prepare every child to enter school ready to succeed.
This year, St. Croix Administrator Dodson James joined educators throughout the territory in reading Lady Bug Girl and the Bug Squad. James read to students in Jacqueline Rosa's classroom at the Golden Rock Head Start Center.
Since 2006, the national campaign has engaged 7 million children, raised more than $7 million for early education programs and provided more than 1 million books for children in low-income neighborhoods, the statement from Government House said.