Local news — St. Thomas
For This Water Baby, Long Wait Is Over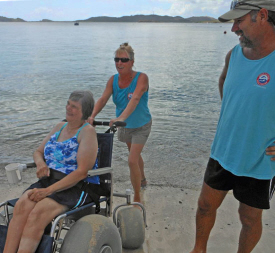 Jane Walters got her feet wet Thursday afternoon at Secret Harbor. It was the first time in 40 years the president of Dial-A-Ride Inc. has had the opportunity to swim in the blue waters of the territory where she was raised. Walters, 67, has had cerebral palsy from birth.
The swim was the result of a year's planning. Rosemary "Rose" Sumas, executive director of Dial-A-Ride, said. "We celebrated our 26th anniversary last year, and Jane was scheduled for a celebration, a national honor. Several hotels had offered complimentary rooms, but we had to wait until this year because we wanted Secret Harbor because their dive shop, Aqua Action, is the only one in the territory providing certified services to persons with disabilities. The catch was, Secret Harbor was undergoing renovations, and wasn't available until now."
Aqua Action provided the water service gratis, and the Secret Harbor Beach Resort provided a three-night, four-day stay. Felecia Brownlow, V.I. Association for Independent Living director, and personal friend, said the association provided meals for Walters and her companion, Sue Higgins, for the stay.
Sumas spoke from Walters' accessible hotel room, where Sumas and longtime pal Higgins had suited up for a dip, eager to get to the waves. But not half so eager as the day's star.
Walters was like a girl on her first date, nervous and beaming. "I've just waited so long for this," she said.
It was a very public first date: a mini-armada of supporters surrounded Walters: Aqua Action divers Sam and Diane Piscitello and Brian LaForce, along with Sumac, Higgins and colleague Brownlow. A crowd of bathers also took an avid interest in the project.
Her tentative smile opened into a wide grin, as she approached the welcoming crystal-clear waters in her wheelchair, where Piscitello and LaForce deftly transferred to a water wheelchair for the completion of the journey to water's edge.
And, finally, the divers lifted Walters out of her water chair and into the ocean.
Walters greeted the first touch of the waters with a bit of wonder. "Oh, it's so good," she said, adjusting herself to Piscitello as he guided her onto a bright orange floating noodle, while her entourage oohed and aahed at Walters' enjoyment. Piscitello's voice carried over his instructions: "You're doing fine now, get comfortable. get a good grip on me. We won't let you get your face wet until you say."
After she finished her swim and had time to collect her breath, Walters pronounced the adventure: "Good, just so good."
"I was always," she quipped, "a water girl."
Piscitello, a Handicap SCUBA Association certified diver and owner of the dive shop with his wife, Diane, said Walters did just fine.
"We love doing this," Piscitello said. "The water is liberating," he said. "Everyone should get in the water. It's very forgiving. You can see how people enjoy it, the glow in their eyes."
Walters' blue eyes were a living testimony to Piscitello's remarks. They glowed with pleasure. Walters' friends and colleagues couldn't enthuse enough about the adventure. "I'm delighted," said Sumas, a close friend and unapologetic fan. "I've known her for years. This makes me feel so good to see her so happy. She is such a humble person."
Walters has had what some would call a stellar career, even for a person with no mobility problems.
Aside from her duties as president of Dial-A-Ride, Walters is a board member of the V.I. Association for Independent Living. A civil servant for 31 years, Walters retired after 22 years as a rehabilitation aide for the Department of Human Services Vocational Rehabilitation office in 2007, where she still volunteers.
Walters grew up on St. Thomas, where her parents, Ahto and Lucy Walters also made their mark on the island. They started the venerable Lucy's Market in the late fifties, where they brought in the first frozen chickens sold on St. Thomas.
Walters has no trouble holding her own. She recalled a Senate hearing on funding for Dial-A-Ride. "I used to be sort of quiet," she said, "until they made me mad. Some senator was talking about withholding our funding, and I threatened him. I said, 'Do you want me to get up out of this wheelchair?'"
Sumas smiles at the recollection. "I was astonished," she said, "and so was the senator."