Local news — St. Thomas
Tropical Depression 15 Forms Wednesday
Tropical Depression 15 got a number at the 11 a.m. Wednesday update from the National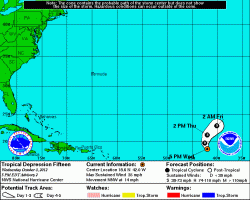 Hurricane Center, but forecasters are confident that it won't pose a problem for the Virgin Islands.
"The system is expected to move in the next 12 hours to the north, but by Thursday and Friday it will turn more to the northeast," said meteorologist Ernesto Rodriquez at the National Weather Service in San Juan.
As of the 5 p.m. update, TD 15 is located at 18.6 degrees north latitude and 42 degrees west longitude, or about 1,500 miles east of the Virgin Islands.
Forecasters expect it to be Tropical Storm Oscar by Thursday, and forecast Oscar to pass more than 1,450 miles a bit north of east of the territory.
It's moving north-northwest at 15 mph with a wind speed of 35 mph.
Rodriquez said the depression should bring low to moderate swells to the territory Thursday into Friday.
As it moves far away from the area, it and Tropical Storm Nadine will be absorbed by a low-pressure area in the mid-Atlantic.
Nadine, which spent some of its life as a hurricane, is now posing a threat to the Azores and tropical storm warnings are posted. Rodriquez said the Azores had some impact from Nadine when the storm passed about 200 miles to the south of it many days ago as it did a loop around the Atlantic Ocean.
Rodriquez said Nadine is now on day 22, which currently ties the storm with 2002's Hurricane Kyle for fourth position as the longest running on record. Rodriquez said forecasters expect the storm will last another two days, putting it in third place for storm with the most longevity.
Number one goes to an 1899 storm named Hurricane San Ciriaco, which passed across the northern Lesser Antilles on Aug. 7 and made landfall on Puerto Rico's southeast coast on Aug. 8. It lasted 28 days. It also hit the Azores.
The number two spot goes to Hurricane Ginger in 1971. That storm was around for 27.25 days.
Hurricane Inga in 1969 currently owns third place with a life-span of 25 days.