Local news — St. Thomas
Island Profile: Nora Williams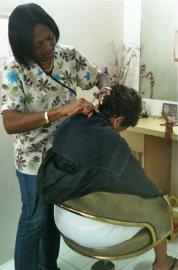 Entrepreneur, parishioner, singer, teacher, consummate volunteer, fundraiser extraordinaire, wife and mom, no matter which role Nora Williams is playing, it is with gusto.
"Right now my main thing is church," she said.
Williams is on the church council for Fredrick Lutheran Church, heads up the Music and Worship Committee and recently joined the adult pantomime group. The church needs a new sound system, and Williams plans to make sure it gets one; her goal is to raise $10,000 by June and her committee has already collected $1,500.
"Someone said 'Let's have a coffee' (to raise funds) so I had to go and plan it," she said. "Whatever people ask me to do, I do."
And whatever they ask her to sell, for one good cause or another, she sells: tickets, flowers, bottled water, chocolate bars, T-shirts, soup, program booklet ads, canvas bags, more tickets ...
"People see me and they say, 'What, you selling again?' " Williams laughed.
Her volunteer work isn't limited to fundraising. A long-time member of the Caribbean Chorale, she also serves as its president, a position she's held more than four years. That means heading up regular executive committee meetings and a lot of behind-the-scenes organizing, besides rehearsing every Tuesday night. And on Thursday nights, she works with the Children's Chorale.
Williams learned to play the clarinet in junior high school, but doesn't claim any instrument now.
"I just like to sing," she said. Her crisp alto voice is often featured in Chorale performances.
Music runs in her family. Husband Ian Williams is a stalwart in the Chorale's tenor section. Sons Aubrey Jerrard Jr., and Omari, Jehrel and Iniko Williams all played in bands. All are grown now, but when they attended Charlotte Amalie High School, mom was, of course, a very active member of the CAHS Band Boosters, raising money for band trips and whatever else was needed.
Somehow, in between raising a family and serving her church and her community, Williams has found time for a career. But then, she did start early.
The St. Thomas native graduated from Charlotte Amalie High School in 1973 and then attended the Modern Hairstyling Institute in Puerto Rico, where she studied cosmetology and skin care and became an esthetician and make-up specialist.
In 1980, at the age of 24, she opened her own business, Nora's Beauty Palace, with financial backing from her uncle, Dr. Wilbur Callendar. "That's my fairy godfather," she said.
"It was very scary," she admitted. "It's still scary. It was one thing to get it and it's another thing to hold it."
She operated the shop on Ninth Street until 1988, then moved to First Street in Sugar Estate, where she is today.
Early on she realized she lacked business training; she had to learn the business side as she went along. But she had the talent and she definitely had the hard work part down pat. She expanded her efforts in 1991, opening a cosmetology school that she ran until early this year.
For eight years – from 1998 until 2006 – she also taught at Ivanna Eudora Kean High School. Education Department funding was tight, so she was forever organizing fundraising campaigns to buy the beauty supplies she needed for her students.
"That's how that classroom survived," she said.
She kept up a grueling schedule, working at the high school until 3 p.m., then heading into town to her shop to work from 3:30 to 10 p.m.
"I miss teaching," she said. "I don't even have my own private school anymore."
She said the economic downturn and the eight-percent pay cut for government employees has chased away many of her clients.
"It's hard. The economy is bad. Nobody has money," she said. "I really would love to start that school up again," but it will have to wait until things improve.
Until then, Williams is having no trouble keeping busy.
"I'm always doing something for someone," she said.