Local news — St. Thomas
Montessori Kids Sing Out for Peace Around The World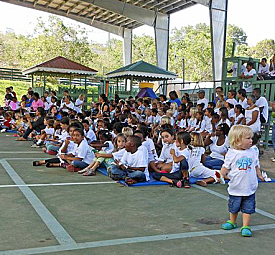 The Virgin Islands joined the global community Friday morning as the sweet voices of 302 Montessori School and International Academy youngsters joined 80,000 other Montessori students worldwide in an annual plea for peace.
"Light a Candle for Peace," a simple and eloquent plea for nonviolence, was heard around the globe all day Friday. Starting in New Zealand, the children's song was sung continuously around the world for the entire day, finishing in the Hawaiian Islands.
The Montessori effort is part of the United Nations International Day of Peace, observed each year on Sept. 21, a global call for cease-fire and nonviolence. This is the school's fourth year in the celebration.
From toddlers to teenagers, the youngsters clutched small, white paper doves as their earnest voices rang out over the early morning. While the toddlers sat with their doves held high, a bit in awe of their surroundings, the older students sang, danced, recited poems, performed skits and played guitars, violins and drums.
Supervising teacher Elizabeth Elger took special pride in the performance. "I just arrived four weeks ago," she said. She and her husband had been teaching in the Republic of Georgia, but decided they'd like a place closer to their real home, the U.S. state of Georgia, to raise their newborn child. "This is the kind of place to raise a child," Elger said.
Now, how did she accomplish all this performance in such a short time? "Oh, it was easy," Elger said. "The kids came up with all the ideas, made the T-shirts, the doves, the candles, and the other teachers all worked hard."
And she added of her new home, "I am humbled and amazed at everyone here."
The program ran from solemn prayers to lively Battle of the Dancers and Steppers accompanied by music the students wrote, to a rousing Superheroes and Villains rap titled "Teach Me to Be Peaceful," complete with wild costumes – black head to toe (villains) to bright red capes (heroes).
The youngsters closed the ceremony with a lyrical plea: "Light a candle for peace/Light a candle for love/ Light a candle that shines all the way around the world."
And for one tiny piece of the planet on a tiny island, peace reigned Friday morning.