Local news — St. Thomas
15 V.I. Retailers Caught in SNAP Fraud Sting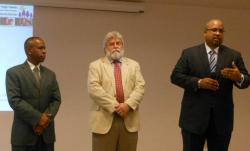 Fifteen retailers in the territory have been disqualified from participating in the Supplemental Nutrition Assistance Program, formerly the food stamp program, because of program violations, the Department of Human Services announced at a Tuesday morning press conference.
The announcement was the result of a two-year investigation by the U.S. Department of Agriculture's Food and Nutrition Service working through the local Human Services agency.
Lennox Zamore, Family Assistance administrator for DHS, said the conference was called to announce the offending retailers and to bring food stamp fraud awareness to the territory.
He said many people are not aware of this fraud that undermines public confidence in the program that is so important to struggling families.
Almost one-fourth of the territory's population – 25,663 – depend on the vital program.
Human Services hired Austin Advertising to do a 60-second TV spot entitled "Stamp out SNAP fraud," which should begin airing soon.
Eric Ratchford, FNS regional director for the Mid-Atlantic region, spoke about the operation to identify the retailers.
"We took out 15 retailers," Ratchford said. "That's a high percentage of the Virgin Islands'
114 retailers. They will never be able to qualify again."
He stressed again later, "Disqualification is for life."
He said that sometimes a relative or friend will apply for the program under a different name made, but Ratchford made clear his agents are on to that, as well as other tricks that retailers, and sometimes, SNAP recipients perform.
"We work over a nine-state area, including the V.I. and Puerto Rico," he said, adding that the staff comprises one analyst and eight agents.
Evidently there's little that escapes their trained eyes. One example of SNAP fraud is when the program benefits are exchanged for cash. This is called trafficking.
While Ratchford and the other representatives made clear that most retailers are honest, it doesn't take much to tip the scales to staggering amounts. Fraud in the V.I. last year averaged out to a combined $500,000 a month for all 15 retailers, he said.
Ratchford said administrative actions have been taken against the retailers, but he declined to elaborate on the criminal end of it because some of the cases are under appeal.
A USDA release states the Fiscal Year 2010 SNAP investigations nationwide resulted in 195 convictions, including a number of multi-year prison terms for the most serious offenses, and approximately $36 million in monetary results.
Human Services Commissioner Christopher Finch said fraud is a challenging problem. "Some people think that when they need cash, they can simply get it through cashing in their food stamps in collusion with certain retailers." That's where the federal tracking program comes in.
And there's lots of money out there. Finch said the SNAP program distributed $20 million in benefits in 2007 and has gradually worked up to $52 million in 2012, for one-fourth of the population."
Speaking later, Zamore spoke of how the investigations work. "Basically, we have an error profile that we track and feed into the computer, which will flag errors, alert us to patterns of usage and tracking transactions, and we will refer those to the FNS for further investigation."
"We get many complaints from the public," he said, "and every one is recorded by phone and followed up." The SNAP hotline number 774-2399
Finch said later that he doesn't know when the last federal investigation of the territory was done, but his department is making the most of the current one with an aggressive media campaign and training sessions scheduled this week for new and existing retailers on how to do business under SNAP guidelines.
On St. Croix the session is Wednesday at the Herbert Grigg Home for the Aged from 10 to 11:30 a.m.
The session on St. Thomas is Thursday at the Human Services Knud Hansen Complex from 10 to 11:30 a.m.
The 15 retailers in the territory who have been disqualified from participating in SNAP are:
St. Thomas
- Broadway Food Mart, Fort Myler Shopping Center;
- Dana Market, C-2, Mariendahl;
- Fruit Plus, 4392 Four Winds Plaza;
- Gabby #2, 2331Commandant Gade;
- Hana Mini Mart, #4 General Gade;
- In and Out Mini Mart, #33 Fryenhoj;
- Max Mart, 8000 Nisky Center;
- Yanes Supermarket, 38 Kronprindsens Gade.
St. Croix
- Carlton Goods Shop, #12 Estate Carltonk, Frederiksted;
- Choice MiniMart, 4 Estate Mountain, Frederiksted;
- Headline Market, 49 Queen St., Frederiksted;
- Super Dollar, 1C Little Princesse, Christiansted;
- Superior Service Station, 350 Estate Mt Pleasant;
- Supreme Service Station, 245 Estate Glynn;
- Covert Grocery, (no address given).