Local news — St. Thomas
Senate Cuts Its Own Budget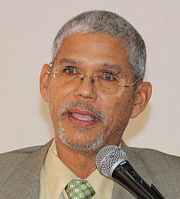 The Senate Rules and Judiciary Committee voted to decrease the fiscal year 2013 budget appropriation for the Legislature by roughly 10 percent Friday, reducing it by $2 million, from $19.8 million down to $17.8 million.
Senate President Ronald Russell proposed the change. The committee took the action while acting on a slew of budget bills funding every V.I. government entity for fiscal year 2013, in preparation for final approval of the budget bills during legislative session next week.
The seven committee members voted unanimously in favor of the cut. Prior to the action, the Legislature's proposed fiscal 2013 budget was unchanged from the year before- and also from the year before that. While members of the Legislature also saw their salaries cut by 8 percent, the fact that the Legislature's budget remained steady during two years of major budget cuts and massive layoffs has led to some criticism of the body.
Sen. Usie Richards defended the level of pay of V.I. senators before the vote, saying critics who point to lower salaries paid to members of the California Senate and other U.S. legislative bodies, should look at the greater number of duties V.I. senators have.
"The V.I. Legislature is a unicameral body," Richards said.. "We don't have a separate house, we don't have city councils, we don't have mayors," he said. The V.I. Legislature also handles issues that are not dealt with at the legislative level in other jurisdictions, such as zoning, Richards said.
Voting for the bill were: Richards, Russell, Sens. Carlton "Ital" Dowe, Sammuel Sanes, Patrick Simeon Sprauve and Celestino White.
The committee also approved an amendment from Richards to a budget bill appropriating $2 million from the Internal Revenue Matching Fund to the St. Croix Capital Improvement Fund. Richards' amendment allocates the sum to help rebuild the Paul E. Joseph Stadium in Frederiksted.
With news from the administration that revenue projections have improved slightly in recent months (see below) the committee replaced the budget bill funding all the central government agencies, from the Fire Service to the Office of Management and Budget, substituting a new bill containing slight increases in several areas.
Budgets increased by the amendment include:
Department of Justice, from $13.1 increased to $13.5 million;
Division of Personnel, from $2.5 million to $2.6 million;
VITEMA, from $4.38 million to $4.45 million;
Office of the Lieutenant Governor, from $6.39 million to $6.45 million;
Board of Education, from $1.95 million to $2.15 million;
Department of Labor, from $4.48 million to $4.58 million;
Department of Licensing and Consumer Affairs, from $3.1 million to $3.2 million;
Department of Education, from $162.5 million to $162.7million;
Police Department, from $51.76 million to $51.84 million;
Public Works, from $20.56 million to $20.65 million;
Health Department, from $21.68 million to $22.1 million;
Human Services, from $57,29 million to $57.37 million;
Housing Parks and Recreation, from $5.95 million to $6.29 million;
Department of Agriculture, from $2.5 million to $2.7 million;
Department of Tourism, from $2.77 million to $2.82 million.
Legislative session is scheduled for Monday and Tuesday, at which time the Senate plans to take final action on all this year's budget bills.