Local news — St. Thomas
V.I. Soldiers Return from Afghanistan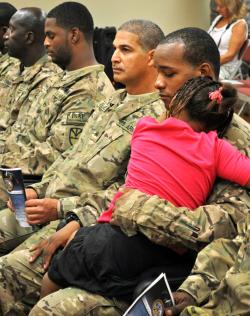 After a year-long deployment in Afghanistan to provide video surveillance and security to battlefield captains, the Virgin Islands National Guard's 104th Troop Command Rapid Aerostat Initial Deployment (RAID) team is home.
The last of the unit's 39 members arrived from Fort Bliss, Texas, on Tuesday.
On Wednesday evening, the 33 members of the unit from St. Croix were honored at a welcome home ceremony attended by fellow guardsmen, family, friends and Lt. Gov. Gregory Francis.
"I want to welcome you home," said VING Adjutant General Renaldo Rivera. "You don't know how good I feel."
"My advice to you is this," he continued. "You need to take time, take time for you, take time for your family. Take time."
A common theme throughout the evening's speeches involved giving thanks to soldiers' families, who had to share the sacrifice and deal with their loved one being away on active duty.
When Francis, a former guardsman and now lieutenant governor, took the microphone last, he praised the entire unit and their professionalism while echoing Rivera's words.
"Families play a major role in a soldier's life because if there are any worries or doubt at home, it's going to affect the soldiers," Francis said.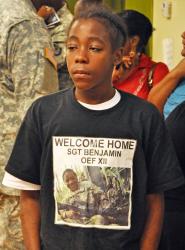 Rivera also said the VING would be there for soldiers as they deal with the process of reintegrating into V.I. society.
After the ceremony, Rivera said reintegration was really about making the solider "whole again," something not done for soldiers when he served in Vietnam.
"We now let them spend some time with their families and catch up with them," he said. "Then we bring them back and say, 'Tell us what we can do for you.' We put them in the right direction and keep them on active duty so that they're covered totally."
That included helping soldiers deal with post traumatic stress disorder, which Rivera said is a concern for anyone returning home from the battlefield.
"You see people dying, you hear the explosions, you hear all the different commotion in the battlefield, so we have to bring them back now to the civilian world," he said. "We have to let them know that we are here and to tell them that we want you to be yourself back home. Don't worry about the war. The war is behind you."
While that might be true, there is one thing from Afghanistan that unit commander Leslie Pemberton said he'd always remember.
"I'll never forget how good and fortunate we have it to live in a country that's free," Pemberton said. "Afghanistan is definitely a totally different world. We have a lot to be grateful for just being free, being able to go to school, being able to do things that I've seen kids and families not able to do."
Pemberton said while the hardest part of being away was missing the family and "doing the things you love to do," the best part now was simply being home.
"It's an awesome feeling," he said. "We're grateful we came out unscathed."
Pemberton couldn't escape the conversation without paying homage to those who died serving the United States.
"There are a lot of soldiers who didn't make it out of Afghanistan," he said, adding later, "I pay tribute to them."