Local news — St. Thomas
Territory on Tropical Storm Warning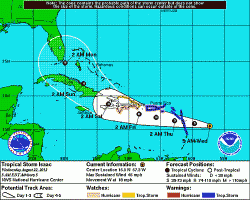 The territory was upgraded to a tropical storm warning from a watch at the 11 p.m. update from the National Hurricane Center Tuesday as Tropical Storm Isaac makes its way toward the Virgin Islands. The territory is also under a hurricane watch.
The storm is getting better organized and is huge, meteorologist Jesus Figueroa at the National Weather Service in San Juan said at 5:45 a.m. Wednesday. This means a several-day spate of bad weather for the territory.
"Conditions will begin to deteriorate this afternoon," Figueroa said, adding that they'll get worse as the evening goes on.
Isaac could be a minimal hurricane when its center is 63 miles south of St. Croix at 11 a.m. Thursday but Figueroa said it's likely it will still be a tropical storm. The center will pass 109 miles south of St. Thomas and 113 miles south of St. John on Thursday morning.
Because the storm is huge, this means strong winds and heavy rain for all the Virgin Islands. Figueroa said that at times the rain will be torrential.
St. Croix should see winds of 45 mph with gusts up to 60 mph.
"St. Thomas and St. John should see a little less," Figueroa said.
Additionally he said the showers at the storm's leading edge have very strong winds. Figueroa said it has a huge tail, which means bad weather until at least Saturday.
As of the 5 a.m. update Wednesday, Isaac had winds of 45 mph with tropical storm force winds extending out 45 miles.
The center of Isaac was located at 15.5 degrees north and 57.3 degrees west, about 400 miles southeast of St. Croix.
It continues to move west at 18 mph. The barometric pressure dropped slightly overnight and is now at 1003 millibars or 29.62 inches.