Local news — St. Thomas
Invasive Species Response Bill Moves Forward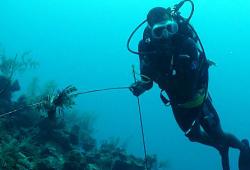 The territory will have a new committee tasked with establishing rules and regulations to try to control lionfish and other invasive species if a bill approved in committee Friday becomes law.
While aimed largely at the noxious, poison-spined lionfish, the bill, sponsored by Sens. Nereida "Nellie" Rivera-O'Reilly and Ronald Russell, has been amended since its introduction a year and a half ago to include any invasive wildlife, but was held pending finding a funding source, then brought back in July after funding was found through the Fish and Game Fund. The committee took testimony on the measure in July, but held the bill due to a lack of a quorum.
As originally written, the bill contemplated setting up a system to pay bounties to divers and fishers who catch the invasive species.
Friday, Sen. Louis Patrick Hill offered an amendment in the nature of a substitute on behalf of Russell, who was unable to attend Friday's hearing, which would instead set up a special committee to work out the most effective responses and establish rules and regulations.The amendment, which passed without opposition, tasks that committee with develop a lionfish and invasive species response plan, recruiting divers, fishermen and others in a position to help with the response.
"We are even considering having the fish for dinner," Hill said.
It also seeks to appropriate $150,000 from the Fish and Wildlife Fund to cover the expenses of setting up the committee and forming the plan.The Fish and Wildlife Fund contains all license and other fees paid by V.I. fishermen to the Department of Planning and Natural Resources and is reserved by law solely to administer fish and wildlife restoration programs.
The committee also voted to send out of committee a bill authorizing the V.I. Public Finance Authority to issue a request for proposals for a Colonial Williamsburg-like "cultural historical and ecological adventure" theme park and tourist attraction, presenting St. Croix history and culture in an entertaining way to visitors.
The bill initially called for a water park, but O'Reilly proposed an amendment changing it to the cultural theme park, saying that fit better with the V.I. Port Authority's efforts to brand St. Croix to cruise ship passengers.
O'Reilly said the V.I. Port Authority commissioned a feasibility study on the possibility of a theme park back in 2003, in response to cruise industry recommendations that St. Croix work on creating a more unique brand to draw visitors to the destination. But shortly after the study was completed, cruise ships pulled out of St. Croix for several years and the study was shelved, she said. Her goal with the bill is to resurrect that study and actively go out and see if developers would be interested in such a project, she said.
Both bills were discussed at All votes were unanimous, with Hill, Sens. Neville James, Shawn-Michael Malone, Terrence "Positive" Nelson and Janette Millin-Young voting yea. Sens. Alicia "Chucky" Hansen and Patrick Simeon Sprauve were absent.O'Reilly attended the hearing but is not a member of the committee. Both measures will now be considered by the Rules and Judiciary Committee.