Local news — St. Thomas
Hospital Hearings Get Heated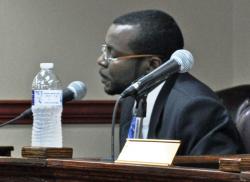 The topic of Monday's Senate hearing for the Committee on Government Operations, Energy and Veterans' Affairs was supposed to be retirement benefits, life insurance and health insurance at the territory's two hospitals.
That was just the tip of the iceberg.
They discussed a host of topics affecting the operations of Juan F. Luis Hospital on St. Croix during the past 18 months: the firing of more than 80 licensed practical nurses and certified nursing assistants in February, the inaccurate remittance of nearly $3 million in health insurance premiums from Fiscal Year 2009 through July of FY11 and a lawsuit brought against the hospital claiming unfair hiring practices by the Association of Hospital Employed Physicians.
The most telling testimony came from V.I. Division of Personnel Director Kenneth Hermon Jr., who provided an update on JFL's payments to the health insurance fund, of which it owed more than $3 million stemming from inaccurate payments since 2009. Had the error not been caught, more than 33,000 employees of the government's group health plan could have been at risk of being uninsured.
"As it relates to JFL Hospital Fiscal Year 2012 health insurance premiums, I am glad to report that as of August 2012, JFL Hospital is current," Hermon said. "JFL Hospital payments currently hover around $397,000."
Hermon also testified that it was "Nelson and his team" that caught the error and notified his office, adding that that they immediately made a $500,000 good faith payment in response. Hermon said Nelson was in the final stages of making an agreement that would pay off the remaining balance owed by July 2013.
When questioned by Sen. Patrick Simeon Sprauve, Hermon testified the error fell on the chief of Group Health Insurance in his office, Maureen Venzen, who was fired from the post in December 2011 as a result of the error caught that October.
"I ultimately had to make the decision that there was a great dereliction of duty and responsibility," Hermon said. "I wrote to the governor to get his approval to terminate the person from this position."
When asked later, Hermon said that Venzen was still working for the Group Health Insurance Board as a consultant making close to, or possibly more than, her previous $80,000 annual salary. He also said "fail-safes" had been put in place so that the error wouldn't occur when Roy Lester Schneider Hospital on St. Thomas converts to its own payroll system in October. Hermon said Schneider Hospital was current and up to date with its payments.
Hermon also dispelled a rumor that the insurance of employees of Luis Hospital had been inactivated due to what was owed to the insurance fund.
He said, "During the month of April 2012, the division inactivated JFL Hospital employees and other employees at other agencies with the ERP-HR module, not due to outstanding premiums, but due to an eligibility/database cleanup project."
When it came to payments by the two hospitals to the Government Employees Retirement System, administrator Austin Nibbs said Schneider Hospital was current in its payments and JFL Hospital had an outstanding balance of $1,441,322 for employer contributions. Nibbs noted, though, that JFL management had agreed to a payment plan for the outstanding employer contributions and that employee contributions were current through July.
Then Sen. Alicia "Chuckie" Hansen took over the questioning, and she asked Nelson and attorney Kye Walker, the chairwoman of the JFL Hospital board, about a litany of items, her voice often raised, none of which related to health insurance premiums or retirement but which did provide some great political theater.
Of particular note were JFL Hospital's relationships with certain doctors and personnel decisions made related to salaries, hiring and firings, particularly in trying to fill its chief financial officer position.
Hansen also had read into the record a very critical letter from David Nissman, where the attorney criticized the current management practices of JFL Hospital. Walker said nobody from the hospital or its board would respond to the allegations of the letter due to pending litigation.
At one point during the testimony of the new medical director at Luis Hospital, Hansen even shouted down Royette Russell, a JFL attorney and the wife of Sen. Ronald Russell, and threatened to have her removed.
Hansen eventually expressed her anger towards Nelson over his firing of the nurses and CNAs. "You fired them. They helped build our hospital so you can come and have a place there," Hansen said. "You displaced them and I'm not happy about it."
When it came to the ongoing dispute between JFL Hospital and certain doctors it employs represented by the AHEP union, Walker had an opinion that seemed to frame the argument.
"What is happening is we have two organizations that have diametrically opposed missions," Walker said. "With regards to the hospital, the hospital is charged by statute to provide healthcare to all regardless of their ability to pay. Because of that it puts the hospital in a precarious financial position."
"While we would like to avoid litigation with AHEP," she continued, "I must note that when you read the complaint AHEP filed against the hospital and others, AHEP states in their complaint that the sole purpose of AHEP is to further the economic interests of its members, those physicians."
"That's where there is a diametric opposition in policy and missions," Walker said. "The hospital still has to keep its doors open."