Local news — St. Thomas
Children Have Fun at Book Exchange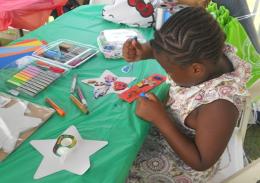 Fun was the order of the day as more than 50 children gathered Saturday afternoon at Yacht Haven Grande for a book exchange and activities.
Volunteers from schools, stores and government agencies handed out books and supervised activities as children joined in everything from a scavenger hunt to arts and crafts. The event allowed children participating in the forth Governor's Summer Reading Challenge to trade in books they've already read and pick up new ones.
Attendees also joined in other fun activities like a raffle and movie.
"It's nice because it gets people out who can't buy books. It's an opportunity for (children)," said Elizabeth Somersall, volunteer from Dockside Bookshop.
Event coordinator and Government House employee Sekoia Rogers said the book exchange is only a small component of the summer reading challenge. Rogers said they've hosted many other events before and during the summer to give away books and promote literacy.
Although summer vacation is coming to an end, Rogers encouraged children to continue reading and to turn in their tracking sheets by Sept. 7. At the end of the summer children who complete the challenge will be invited to a party at which they will win awards and receive certificates, medals and reading and writing materials.
The Governor's Summer Reading Challenge invites students in kindergarten through eighth grade to read five books over the summer and rewards them for reading more. Readers receive a tracking sheet to record books they read through the summer.
The challenge is open to all students in kindergarten to eighth grade in the territory's public and private schools. Children can also read books online through the Virgin Islands public library system.
The program began in 2009 when Gov. John deJongh Jr. challenged students to read at least five books over their summer vacation. First lady Cecile deJongh gave children books for Christmas in 2008, and the following summer, the governor instituted the challenge to keep kids reading.
Children can turn in tracking sheets to public libraries or any office of the governor.
Further information about events associated with the Summer Reading Challenge is available by calling Rogers at 774-0001, ext. 4316. Tracking sheets are available online at http://www.readfive.org/.