Local news — St. Thomas
Downtown Revitalization Holds Public Forum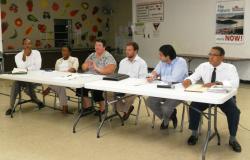 Revitalizing Charlotte Amalie won't be easy unless we come together as a community, speakers emphasized Thursday evening at the Downtown Revitalization Inc. forum entitled Tools for Residential and Neighborhood Revitalization.
More than 50 people attended the meeting at All Saints Cathedral School to hear presentations by government officials. Speakers offered information on everything from grants to individual efforts that allow people like residents, business owners and developers to work towards making the downtown area more esthetically pleasing.
"We are at a crossroads," said Gautam Daswani of Royal Caribbean. "We have to do things so our community moves forward. DRI is bringing it to your table so you can see what's available and we can move forward together."
The group focuses on areas of downtown that range from Frenchtown to Havensight, and from the Charlotte Amalie Harbor to the foothills to the north.
The DRI's goal is to revitalize downtown through five major areas with simultaneous projects. These areas include parking and traffic control, harbor transportation, mixed-use development, public safety, beautification and historic preservation. Thursday's forum focused on mixed-use development as well as beautification and historic preservation.
"There are people who wanted to do revitalization, but do not have the tools," said DRI President David Bornn. "This information is not hidden; it's just hard to get out there. It is only a glimpse of what is offered."
Nadine Marchena Kean, director of the V.I. Economic Development Authority Enterprise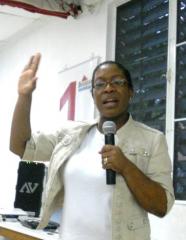 Zone Commission, outlined the enterprise zones, or areas the governor has deemed in distress, noting that these are areas of concentration for revitalization.
Kean said the commission is currently doing door-to-door surveys within the enterprise zone to learn what stakeholders like about their area and what they want to see changed. Once data is collected and assessed, the commission can begin implementing projects to improve those areas. For example, if residents want a specific store in their area, the commission will work to bring in that store.
Marchena Kean said they're not just working with the community, but also with individuals who are revitalizing their homes. The commission is offering incentives like tax exemptions to people who beautify their property.
John Green, V.I. Housing Finance Authority director of Planning and Construction, also concentrated on distressed areas as he shared information about reintroducing residents to living in the downtown area.
He said the authority is currently fixing up areas through the Community Block Development Grant, which helps local governments to improve distressed areas through things such as community projects. He discussed ways in which not only homeowners can get involved, but also developers.
Stuart Smith, director of the Department of Planning and Natural Resources Division of Comprehensive and Coastal Zone Planning, and Marilyn Chakroff, Urban and Community Forestry Program coordinator for the V.I. Department of Agriculture, showed how their departments are also striving for a physically improved downtown.
Chakroff said her department's goal is to bring back "historical" plants to urban areas. She encouraged residents to preserve the island's native plants, noting that a majority of plants used in landscaping come from different places.
"How can we soften the appearance of Main Street?" she asked, adding that downtown Charlotte Amalie requires more than just plants to once again become a vibrant and healthy community.
The group will hold its next meeting Sept. 27 at 5:30 p.m. in the University of the Virgin Islands conference room.