Local news — St. Thomas
St. Croix to Get Some Weather Very Early Saturday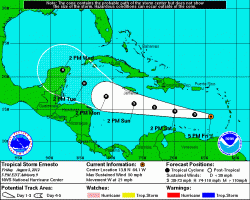 With Tropical Storm Ernesto swirling to the south and another system far out in the Atlantic on the watch list, the hurricane gurus at Colorado State University came out Friday with their prediction for the rest of hurricane season.
As for Ernesto, it's expected to pass 250 miles south of St. Croix at 10 p.m. Friday.
On Friday, National Weather Service meteorologist Luis Rosa said, "It looks like there will be a six-hour period of heavy squalls after 2 a.m. Saturday. It could last till mid-to-late morning and maybe noon."
Rosa said St. Croix residents should expect winds of 25 to 30 mph with gusts to 40 mph. Wind and flash flood advisories may be in place later Friday night, he said.
Rosa expects St. Thomas and St. John to see some brief heavy rainfall as Ernesto passes far south, and wind gusts could reach 30 to 40 mph.
Waters will be rough on the Caribbean side of the islands, Rosa said, and small craft advisories have been posted.
Tropical storm force winds extend outward up to 105 miles from Ernesto's center. They are mainly to the north and east of the center.
As of 5 p.m., Ernesto had winds of 50 mph and was moving west at 21 mph.
Ernesto's center was located at 13.9 degrees north latitude and 64.1 degrees west longitude or about 340 miles south southeast of San Juan.
The barometric pressure stands at 1002 millibars or 29.59 inches.
It's way too soon to know where that system now located 135 miles southeast of the Cape Verde Islands will go. The National Hurricane Center gives it a 50 percent chance of developing into something stronger in the next 48 hours. Most models take it northeast of the territory, but Rosa said it's a week away.
"It's too early to say," he said.
If it develops into a named storm, it will be called Florence.
Looking ahead, the Colorado State team of Phil Klotzbach and William Gray are now predicting a total of 14 named storms for the entire hurricane season. They expect six to become hurricanes, with two becoming major hurricanes carrying sustained winds of 111 mph or greater. In June, the team had predicted 13 named storms with five of the 13 expected to become hurricanes and two of those expected to become major hurricanes.
The 14 named storms and six hurricanes in the latest forecast include the four named storms and one hurricane that formed in May and June. This leaves 10 name storms and five hurricanes to go for the rest of the season that ends Nov. 30.
"We have increased our seasonal forecast from early April and early June, due to a combination of uncertainty in El Niño as well as slightly more favorable tropical Atlantic conditions," Klotzbach said.
For the remainder of the season, Klotzbach said the probability for at least one major hurricane making landfall in the Caribbean is 39 percent. The full-season average for the last century is 42 percent.
The Colorado State team predicts that tropical cyclone activity for the remainder of 2012 will be about 90 percent of the average season. By comparison, 2011 witnessed tropical cyclone activity that was about 145 percent of the average season.
The hurricane team's forecasts are based on the premise that global oceanic and atmospheric conditions – such as El Niño, sea surface temperatures and sea level pressures – that preceded active or inactive hurricane seasons in the past provide meaningful information about similar trends in future seasons.
Colorado State is in its 29th year of issuing Atlantic basin seasonal hurricane forecasts.