Local news — St. Thomas
Exhibit Teaches Virgin Islanders about Taino Culture
You could be Taino and not even know it, Maekiaphan Phillips told an audience of about 50 people Saturday afternoon at the Opi'a Taino exhibit at the Virgin Islands Humanities Council's center.
The crowd immersed itself in Taino food, traditional clothing, artifacts and culture. At the exhibit, titled "A Walk in My Moccasins," guests flipped through pages of stories, pictures and educational material.
The Taino people as a tribe are gone, but Phillips, a member of the United Confederation of Taino People and Opi'a Taino International, said cultures never really die because they are remembered by historians and are passed on genetically through ancestors.
"There are no full descendants of Taino since Christopher Columbus," Phillips said. "They became a mixture of several cultures, teaching and growing together."
Residents of the Virgin Islands, Puerto Rico and surrounding islands represent a melting pot of many different ethnicities and ways of life, Phillips added. Freed African slaves were often sent to Taino villages where they married and created a new generation.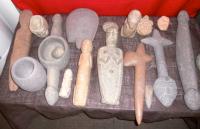 Besides its educational value, the exhibit is designed to preserve and promote Virgin Islands culture, and to bring attention to the Tainos' effort to rebury remains found in Tutu in 1990 during construction of the mall.
When the area was excavated, Phillips said, a 600- to 800-year-old village with 18 layers of human remains and artifacts was uncovered. Most of the items were removed for study and have been in storage since.
Phillips hopes to find a place in the Virgin Islands were she can lay the remains to rest permanently. Along with a guaranteed permanent resting place, Phillips said she would like to recreate a small Taino village for locals and tourists to learn firsthand about Taino culture.
"The goal is to get a village built in the Virgin Islands as a memorial to Taino ancestors, but it will have to be privately funded," she said, noting that efforts to set aside a space at Magens Bay were declined by the Magens Bay Authority because it does not have resources for the project at this time.
In the display, a model of a traditional village showed such things as huts with cone-shaped roofs, a ball court and lookout stations. Artifacts excavated from a Haitian Taino village showed that the Taino people made everything they needed from plants and stones.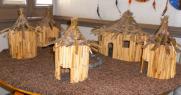 Gabriel St. Surin of the Bureau of Corrections brought back the artifacts from Haiti. He pointed out ornaments, dishes and incense burners made from heavy stone tools. St. Surin noted that importance of frogs in the Taino culture as several of their stone pieces had decorative frogs carved in them.
The Taino people primarily ate fish, chicken, iguanas, local fruits, occo – which is used like curry – and pineapples, which they kept in their homes for good luck. Phillips made traditional Taino dishes such as pumpkin rice, a cassava dish, barbequed chicken, carrot candies, spices and sauces for attendees.
Phillips makes presentations at schools and sells Taino-inspired items such as spices and handmade crafts in an effort to interest the community. Even if you're not Taino, she said, it's essential to learn about your ancestors and your heritage.
Further information can be obtained by calling Phillips at 1-340-514-5665.