Local news — St. Thomas
St. John No. 5 with Travel + Leisure Readers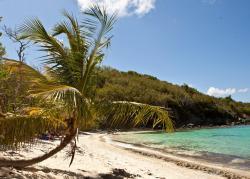 Readers of Travel + Leisure Magazine ranked St. John No. 5 in its 2012 World's Best Readers Survey of islands in the Caribbean, Bermuda and the Bahamas, the Tourism Department announced in a Monday press release.
Neighboring Vieques in Puerto Rico took No. 1 honors. Harbour Island in the Bahamas was second, Virgin Gorda in the British Virgin Islands ranked third, and the Grenadines were fourth.
"St. John continues to be a top-of-mind destination in the Caribbean region and we appreciate the confidence travelers have placed in our territory," Tourism Commissioner Beverly Nicholson-Doty said.
St. John had already been listed in Arthur Frommer's Top 10 favorite travel spots for 2012, a testament to the quality of the vacation experience in the U.S. Virgin Islands, Nicholson-Doty said.
Reinforcing the case were the top mentions in this year's Travel + Leisure survey for The Ritz-Carlton, St. Thomas and St. John's Caneel Bay Resort. Both were listed among the Top 25 resorts in the Caribbean, Bermuda and the Bahamas. The Ritz was listed No. 17 and Caneel Bay, 21. The Reefs in Bermuda was the No. 1 resort.
"We are very proud of these resorts and encourage all of our partners in St. Thomas, St. Croix and St. John to continue striving for excellence in today's competitive environment," the commissioner said.
Every year, Travel + Leisure asks its readers which industry suppliers represent the very best in travel. The results of the 17th annual Travel + Leisure World's Best Awards survey, revealing readers' favorite hotels, cities, islands, cruise lines, airlines, car rental agencies, safari outfitters, and tour operators, are listed on www.TravelandLeisure.com, and will be featured in the August edition, on newsstands July 20.