Local news — St. Thomas
Seaborne to Get New Planes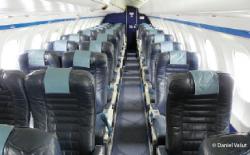 Seaborne Airlines is ramping up the comfort level and its service between the territory and San Juan with the anticipated arrival of a Saab 340B before the end of the year. Flights aboard the 34-seat plane will start in January.
Seaborne expects to acquire two more of the same planes by March 2013.
The new planes will be used on airport to airport routes for the Seaborne Shuttle, not on the routes where planes land on water. The 340Bs will replace those used on the San Juan to St. Thomas and St. Croix routes and supplement those used between St. Thomas and St. Croix.
"The Saab is the perfect blend of comfort, speed, fuel efficiency and size," said Seaborne President and Chief Executive Officer Omer ErSelcuk in a press release.
"While smaller aircraft tend to miss on comfort, we believe the Saab is the best aircraft to help us grow our existing and new planned markets," he said.
The new aircraft has double the 17 seats on the Twin Otters now flying its shuttle service between airports, according to Seaborne marketing consultant Angelia Hanne.
The new planes also go faster, "325 mph," Hanne said, adding that it will cut 15 minutes off the flight times from San Juan to St. Thomas and St. Croix.
Hanne said that with American Airlines ending flights out of San Juan to St. Thomas and St. Croix, Seaborne expects to fill in the gap.
The new planes are part of Seaborne's expansion program, and Hanne said the airline will start San Juan to Tortola services in October and plan to double the number of flights between St. Thomas and St. Croix.
"We're hoping to grow 150 percent," she said.
Hanne said that on Saturday Seaborne will launch its online booking system, which allows travelers to check in and print out boarding passes at home. The airline also has interline agreements with other airlines that allow passengers to check bags through when they connect from Seaborne to other airlines.