Local news — St. Thomas
AT&T Delivers Geography and More
People who live on small islands in big oceans can tend to feel isolated or insulated, and youngsters, especially so, unless they get a notion of where they are in the world.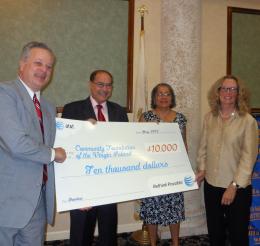 The Virgin Islands is no exception in this regard. Education, of course, is the answer.
Tuesday morning, the Rotary Club of St. Thomas Sunrise announced at its weekly meeting the award of a grant from the AT&T Foundation to the Community Foundation of the Virgin Islands (CFVI), in the amount of $10,000 to expand students' horizons with "Project Atlas."
In presenting the check, Ray Flores, AT&T Regional Vice President for Puerto Rico and the Virgin Islands, addressed the sense of isolation living on an island can bring and stressed the company's focus on education. The project will distribute individual atlases to each seventh grader in the territory's six junior high schools.
"We believe it is important that these students who represent our future have the tools to be successful in today's economy — and more importantly — in tomorrow's," Flores said. "AT&T, AT&T Foundation, and AT&T of the Virgin Islands will continue to work together with educators, parents, organizations, and government to be a catalyst for change on this issue."
The Rotarians were thrilled with the contribution. Rotary Sunrise past president, Tom Bolt, said the idea started about two years ago when Gretta Moorhead, a former St. Thomas teacher, spoke to the club about the Dictionary Fund which she had established at CFVI in 2002. The fund has distributed dictionaries to third graders throughout the territory over the past nine years.
Moorhead wasn't able to be on St. Thomas for the presentation. Speaking from Philadelphia Tuesday, she said, "When I spoke at Rotary that morning two years or so ago, Tom Bolt asked me what's next. I told him ideally what I'd like is to get atlases to the kids. So we and other Sunrise members met with CFVI and submitted a grant to the AT&T Foundation."
Moorhead stressed the importance of the project. "If the students haven't been lucky enough to travel, they really have little idea about the geography of the world, countries, and territories," she said. "The atlases will complement the world geography studies of seventh graders, who are required to take it as part of their curriculum. It will expand their world. Each student has his or her own atlas they can take home at night and study."
"I know when I was young, I loved maps, just loved looking places up. I hope these students will, too. It's important for each student to have an atlas of their very own," Moorhead added.
Dee Bacher-Brown, CFVI president, praised AT&T. "We are thrilled to receive this generous grant from AT&T Foundation. For CFVI, this support represents the very best in philanthropy, the generosity of a corporate partner - AT&T - and the vision and long-term commitment of a volunteer – Gretta Moorhead – whose creative strategies will promote student learning."
The atlases will be distributed in September, at the start of the school year.
"AT&T invests significant resources to advance education, strengthen communities, and improve lives," Flores said. "Through philanthropic initiatives and collaboration, AT&T and the AT&T Foundation support projects that create opportunities, make connections and address community needs where we — and our customers — live and work."
Furthering this goal, Flores spoke of an exciting project AT&T initiated last year – Y-BALE Youth for Broadband Awareness & Literacy.
"Basically," Flores said, "it's a program to educate youth on the value of broadband access. We held seminars at a variety of summer camp programs bringing relevant 'hands-on' training in computer technology to the youth and young adults through a variety of media components including television, radio, web streaming, and face-to-face education."
The project started in Florida last year as a summer program, Flores said, but now has been expanded to Puerto Rico and will be here in the territory this year.
Flores also talked about the downside of Internet access. "The program also will stress the dangers inherent in Internet access. We stress safety," he said. "Youngsters have to understand that anything they do on the Internet is there to stay. They play with their IPods, or phones, or computers for fun. They must be made aware of the dangers – identity theft, sexual predators. They must learn to be careful."
Y-BALE builds on existing strategic not for profit partnerships, for instance, the 4-H clubs or Boys and Girls Clubs. Flores said the company will be partnering with Boys and Girls Clubs in the Virgin Islands.
The program allows AT&T to train a network of youth and young adults to use Broadband Technology to gather information. The final activities of the program have groups of students producing one to two- minute videos using cell phones/digital cameras to record their creations. The messages in the videos contain content about strategic issues impacting their communities ranging from the effects of cyber-bullying to the value and necessity of a good education.
The videos are judged by a panel comprising community leaders and business representatives and prizes are awarded.
Flores said the program already has met success in Puerto Rico. "The island's first lady and San Juan's first lady have been judges."
A launch date for the local program has yet to be announced.