Local news — St. Thomas
Citizens Group Vows to Support Sports Complex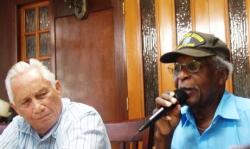 An ad hoc citizens group advocating economic development for St. Croix pledged Tuesday to vocally support a proposed sports complex planned for Frederiksted.
While the talk radio airwaves buzzed Tuesday afternoon with opponents of the $50 million proposal pledging to "pack the meeting hall" of the Senate's Frederiksted office building, the informal group that calls itself "We the People" met at Paquitos Restaurant Tuesday evening and argued vehemently for the project, along with the proposed Williams & Punch and the Golden Gaming developments, both of which have sat on the drawing boards for years trying to clear regulatory hurdles.
"I can't even understand why there's opposition to it," Diane Capehart said, ticking off a list of reasons to support it. Leveraging $25 million in private investment, spurring hospitality business and giving local youths first-class facilities for recreation were among her reasons.
"How can that be bad?" she asked.
Under the proposed memorandum of understanding – which will be debated at 6 p.m. Wednesday by the Human Services and Recreation Committee – a development partnership called GlobeVest V.I. would invest $25 million toward construction of the sports complex; the V.I. government would invest $5 million for design and planning and, if the project proves feasible, invest another $25 million.
The government estimates paying off the bonds over 30 years at 6 percent interest would cost $59 million, after which the facilities would belong solely to the territory.
The government's half of the project involves replacing aging Paul E. Joseph baseball stadium and the Terrence Martin softball field, along with rehabilitating the Crucian Christmas Festival grounds.
GlobeVest V.I. would build accompanying tennis courts, volleyball courts and a swimming stadium, all on a scale expecting to attract sports events from around the world. The entire project would cover about 60 acres.
But while the impact of construction jobs and increased tourism are appealing, longtime development advocate Al Franklin of Our Town Frederiksted said the most important impact is on the future.
"This infrastructure, it's not being built for us. It's being built for our children and our children's children," he said. "It's a long-term investment."
Eugene "Doc" Petersen, who took it upon himself to circulate a petition in favor of the project, said the proposal isn't just a building project; it's an investment that would create business for years to come.
"In economic times like these you have to invest and you have to invest big," he said.
His son, musician Bully Peterson, took exception to the idea that tennis, volleyball and swimming are elitist and somehow not appropriate for Crucians.
"That's a red herring," he said. "Our children can excel at anything they are asked to do."
"I just hope the Senate doesn't chicken out because some people talk loud," he said.
Larry Richards, senior project manager for the local partner in GlobeVest V.I. and a native of St. Croix, said he remembered playing baseball on the local fields and that he was looking forward to helping build something better for future generations.
Richards said the strident opposition to the project voiced last month at the Senate surprised him, but not as much as how quiet supporters of the project had been, urging supporters to be there to voice their opinion.
"We have to all be at the Senate to support it," he said.
According to George Flores, the citizens advocate who pulled the group together, the idea of a sports complex in Frederiksted rose from discussions among the citizens over the last decade.
We the People also discussed at the meeting the proposed west side development Williams & Punch, which has cleared every hurdle but one. It has been held up more than a year by officials at the National Oceanic and Atmospheric Administration and approval by the Army Corps of Engineers.
Flores said he has been hounding officials for months trying to get them to act either one way or the other.
Tuesday he said he had spoken to an official who said the plan has become her responsibility and she was getting ready to review it. Flores pointed out that they have had it for more than 130 day, and said she told him she was going to ask for another 30-day extension.
Flores called the agency's inaction a form of "terrorism" and asked officials at the meeting to help get the ball rolling again.
"They are taking away our right to have jobs and support our families," he said.
At stake is the final piece of the permit puzzle that will allow the Williams & Punch project to go from an idea first aired in 2006 to actual shovels in the dirt, followed in three years by a 322-room development with a casino and a man-made lagoon and marina. The developers have estimated the project could create as many as 3,000 jobs.
The group also discussed Golden Gaming development. Flores said he has been told the backers of the project are nearly ready to proceed again, having arranged financing.