Local news — St. Thomas
Kean Kids to Put Science to Work with Fish Farm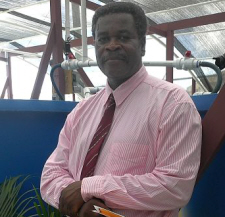 Add tilapia farming to the roster of subjects some Ivanna Eudora Kean High School students will be expected to master, with impacts that could go far beyond the East End campus of the school.
The fish farm was launched Friday at a grand opening that brought together school and government officials with the co-founders of global investment firm Celtic Therapeutics, which donated more than $60,000 to get it up and running. The V.I. Legislature appropriated approximately $22,000 to help fund the facility's hydroponic system.
Kean Principal Sharon McCollum said the company's partnership with the school was brokered months ago by Celtic Therapeutics' Office Manager Francisco Rivera, whose initial conversation with administrators about possible contributions to Kean's science department and nursing program turned into a different, more far-reaching project that could significantly enhance the school and community.
Itching to give students a more hands-on way of learning the mechanics of science, Kean teacher Kirk Lewis said he was convinced tilapia farming was the way to go after visiting the University of the Virgin Islands on St. Croix.
"I took a course on aquaponics and I was impressed," Lewis said Friday. "I knew this could be a project where our students would be able to learn about science, but also the real life operation of certain concepts, such as aquaponics and hydroponics."
Some 45 tilapia hatchlings were flown from St. Croix Friday. Lewis explained that the hatchlings will take until about August to reach full size, and will then be harvested.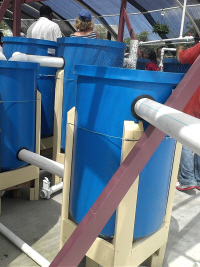 Ultimately, it will be up to the school to breed the tilapia, and Lewis said that should become a reality in about a year, once the facility is well-established. In the meantime, students will also be growing hydroponic veggies, including lettuce, pumpkin, cucumbers and "whatever else we can find," Lewis said.
Celtic Therapeutics co-founders Peter Corr, Ph.D., and Stephen Evans-Freke also stressed Friday that the opening of the tilapia farm will also help the V.I. community continue to dialogue about agricultural self-sustainability, and potentially create a booming business for Kean that could be marketed to cruise ships and other outside vendors.
"It's with enormous pleasure that we played a small part in helping that start here, and we look forward to watching this grow," Evans-Freke said.