Local news — St. Thomas
@ Work: Nayad SwimGym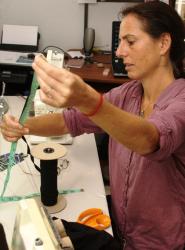 It wasn't long after Jennie Green moved to St. Thomas five years ago that she realized most bikinis aren't made with the active woman in mind. After searching in vain for a suit that would look super cute and stay put while she swam, ran and sailed, the idea for her own business – Nayad SwimGym – was born.
"My whole thing was I did not want any moving parts: no knots, wires, buckles or clasps," Green said from her Northside sewing studio and home office.
Green is a mom, wife and accomplished journalist who, before launching Nayad SwimGym in August, had also worked for years in nonprofit management. Until she started Nayad, Green had never sewn, but she quickly learned proficiency in the craft.
Now Green's suits are available at Magens Bay Boutique on St. Thomas, at Pampa on St. John, and through her website, www.nayadswimgym.com.
The nylon-spandex blend suits come in a variety of styles, from tankini tops and boy-short bottoms to tops and bottoms that show more skin but still stay put. Green also offers a one-piece suit, which costs $86 and can be customized in terms of front coverage, back design and color/pattern choice.
Online shoppers can order ready-made two-piece suits for about $110, or they can order separates and customize their fit, fabric and style.
Though I'm hardly an athlete, I tested one of Green's bikinis, and I'm happy to report it was comfortable, flattering and fun.
The racerback top kept my top in check as much as a sports bra would, but it was far more fashionable than typical athletic wear. The bikini bottom I tested covered my assets completely without looking matronly.
Green said she originally thought that Nayad would attract middle-aged women, but she quickly realized, "There's a whole world of girls who do sailing, and beach volleyball and kite boarding." And Zumba, and yoga and chasing kids around the water's edge, all of which are activities Green designed her suits to handle.
Green hopes her online business will grow as word of Nayad spreads locally and as happy tourists return home with their new suits.
"The swimsuit business," Green said, "has not caught up to the new woman."
Until now.