Local news — St. Thomas
Races and Human Pals Behind Them, Two Horses Set Sail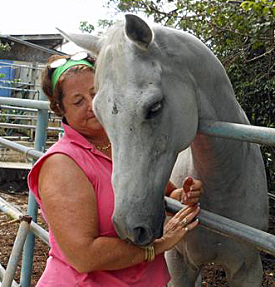 Two handsome nine-year-old retired racing horses – Prayerful, a big bay, and Vivid Cat, a dappled gray – left St. Thomas Saturday bound for greener pastures and new homes far afield.
The two left in their wake a small group of volunteers; women with damp eyes and a hole in the hearts who bid a tearful farewell to their pals.
Lynn Utech, president of the Island Horse Welfare Foundation, expressed gratitude that the animals will have a new home at Pure Thoughts Inc. Horse Rescue in Miami. "We're so grateful to them," Utech said. "They will be given medical attention, fed and cared for, and they will find new adoptive homes. That's something we just don't have here. The people there have told me they will always keep two stalls open for us."
Utech has been rescuing horses since 2002, first with the now defunct V.I. Community Cooperative Thoroughbred Retirement Effort, VICCTRE, and now with the foundation.
Fred and Priscilla Hintz, owners of St. Thomas Dairy, let the foundation use the stalls and pasture behind the dairy that VICCTRE once used. "We cleaned the whole area after Hurricane Earl last year, and they let us operate here. We keep the property clean and clear."
"Prayerful and Cat are the first two horses we've been able to ship to the states since 2008," Utech said. "We've been slow since the recession."
The two were racehorses, both in the money, Utech said. "They came straight from the track. If we have room, we always accept them. We have a good rapport with the horsemen."
Meantime, the two stars enjoyed their afternoon, munching on carrots while standing patiently to have their legs wrapped for their journey.
Utech, while watching Brown give a final hug to Cat, said, "The volunteers bond with the horses, give them affection. Brooks and Cat just took to each other, that's a special relationship. Brooks is Cat's sponsor. It's good for both of them.
"Some of the other horses just take their care in stride," Utech said. "They're happy to see us, when we fill the feed bucket, but that's about it. Prayerful and Cat are different; they love us, they thrive on the attention."
Sara Aubery, who moved to the island from San Diego earlier this year, and resident Mary Phillips will accompany the horses on the 12-hour journey on a Black Hawk Shipping barge from here to Puerto Rico, the first leg of the journey.
This is the second journey for Phillips. Though she sounds game for Saturday's trip, she says the last trip was "really rough. We were concerned about the horses, so we slept next to them in the seats of John Deere tractors."
"My dad is zookeeper at the San Diego Zoo," she says. "He always tells me of his animal transport adventures, like taking some rhinos to New Zealand. Now, I'll have something to tell him."
Utech said, "The key to today is what Black Hawk did for us. They stopped en route from Tortola, and picked the horses up late so that they won't land in Puerto Rico before the dock opens at 7 a.m. They didn't charge us. All we had to pay is the dockage fee. That's just amazing. We are so grateful."
The horses have an elegant route ahead of them. They will be picked up and taken to the Hacienda Siesta Alegre in Rio Grande, a Spanish colonial horse farm run by Greg and Linda Jackson, where they will spend a week before continuing to Miami.
Utech said, "We've been working with Greg and Linda for years. They will take the horses to Miami on their airline, Alegre Equine Air Transport. It's a costly operation, but they work with us to keep costs down."
Utech said she wants ultimately to create a place where people can come and learn to ride horses, and learn to care for them as well. "It's therapeutic, and it would be so good for the community, for the youngsters," she said. "Of course, our main objective is to find caring homes for the horses. I wish we could find more here on the island."
Right now, the foundation has five regular volunteers, and four horses. "We are always eager for volunteers, even if it's only a few hours a week," Utech said.
The foundation accepts donations through the Community Foundation of the Virgin Islands horse rescue fund. Anyone interested in donating or volunteering with the group can contact Utech at 513-8636.