Local news — St. Thomas
Former Gov. Luis Laid to Rest on St. Croix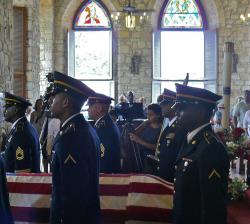 As saintly stained-glass visages looked on from the high arched windows of Christiansted's Holy Cross Catholic Church, family, friends and admirers bid farewell Thursday to former Gov. Juan Francisco Luis with song, worship and words of remembrance.
The territory's third elected governor, Luis is also the longest serving, taking office in 1978 when Gov. Cyril E. King passed away in office, then winning two full terms at the ballot box, for a full decade in office.
The pews were full and many more filled rows of seats beneath a tent set up out in front of the iconic yellow-painted stone church. Senators, Gov. John deJongh Jr., Delegate Donna Christiansen and a veritable who's who of notable St. Croix citizens took turns at the lectern, recalling Luis' many accomplishments.
"When I was president of the (St. Croix) Central High School PTA, our top priority was getting off the dual schedule, and he accomplished that," said Christensen, referring to Luis eliminating the practice of holding two sessions of school per day in the same school.
"He stood in the face of public outcry when he rejected the agreement with Hovensa and insisted on tangible benefits for the people of the Virgin Islands," said former Lt. Gov. Ken Mapp.
Luis largely created the health care system in the territory today, said deJongh, by bringing in federal funds that built the St. Croix hospital that bears his name, along with Schneider Regional Medical Center and the Myrah Keating Clinic.
"Progress occurs when courageous, skillful leaders seek and seize the opportunity to change things for the better," deJongh said.
Along with his public accomplishments, many recalled how Luis influenced and affected them on a personal level.
DeJongh credited Luis with giving him the first leg up that began his career in pubic service.
"I still remember, after graduating college, I had not even met Juan Luis yet, and I expressed a desire to be on the IDC (Industrial Development Commission); and without knowing me personally, he appointed me," said deJongh. Many others, from Mapp to Sen. Alicia "Chucky" Hansen, were propelled toward successful careers with Luis' guidance and help, he said.
V.I. Superior Court Judge Julio Brady, who served as Luis' lieutenant governor, recalled that Luis promised him he would have a role overseeing several agencies and departments, and once he was elected, gave him the power and never once questioned or undermined his authority.
"That is something I cannot emphasize enough: the man always kept his word," Brady said. "And years after our relationship ended ... in 2006 he not only wrote a letter endorsing me for the position of judge, but he came and testified on my behalf. That was more than integrity. That was good-heartedness."
When Luis' brother Carlos Monell delivered the eulogy, he spoke not of Luis' public accomplishments or virtuous actions, but of more personal recollections.
"As we search for meaning, a caravan of memories goes through our minds, and we relive those moments, if only for a moment," Monell said. "What I most remember is my brother teaching me how to field and hit the ball." He fondly recalled listening to radio boxing broadcasts with his brother and playing out the match between the two of them as a child. Then later, "going to the old Alexander Theater to see the cowboy movies and great epics Juan so enjoyed."
Once the eulogy and mass were concluded, Luis' casket was transported to Kingshill Cemetery for his final interment. There was a second, graveside service, a musical tribute and the V.I. National Guard performed a full military ceremony, with color guard, a rifle salute and taps.
Born in Vieques in 1940, Luis moved to St. Croix at the age of two months, growing up on the big island and graduating valedictorian of Christiansted High School Class of 1958. After attending college in Puerto Rico, he returned to St. Croix, taught grammar school and worked for the U.S. Department of Housing and Urban Development until being called to serve in the U.S. Army.
Honorably discharged in 1968 at the rank of sergeant, he returned to St. Croix, got married to Luz Maria Guadalupe, and worked in the private sector until being elected to the 10th Legislature in 1972. In 1975, he was elected lieutenant governor on the ticket with King.
Luis is credited with getting financing to build the territory's two modern commercial airports, building a new container port on St. Croix and a wide array of road and construction projects. He acquired over 2,000 acres of land in the middle of St. Croix for affordable housing and agriculture and is responsible for the building of Elena Christian and John H. Woodson junior high schools.
He leaves behind his family, which includes his wife, Luz Maria Guadalupe Luis; daughter, Carlotta Amalia Luis; son, Juan Francisco Luis Jr.; sister Lydia Cintron-Monell; brothers Carlos Monell and Esteban Monell Jr.; and many others.