Local news — St. Thomas
BVI's O'Neal Congratulates DeJongh as Mapp Won't Fold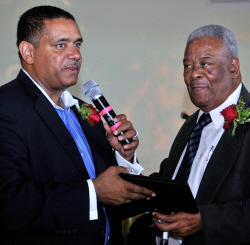 British Virgin Islands Premier Ralph O'Neal called and congratulated Gov. John deJongh Jr. Thursday on his reelection, even as defeated challenger Ken Mapp refused to concede in the race he lost by a hefty margin.
O'Neal and his wife said they were glad of the news, according to a Government House statement. "I wish you well in your second term and I know you will do well. Continue the good work," O'Neal said, according to Government House.
"The first news I got was that you were behind but by the time I went home and had dinner, I saw you were in the lead," O'Neal said.
Meanwhile, Mapp has yet to issue a concession, although as of Tuesday night's vote count deJongh led Mapp by 3,955-votes, a commanding 56.3 to 43.6 percent margin. Ballots cast by machine were counted Tuesday night, while as many as 1,734 walk-in and mail-in ballots are currently being counted. The boards have until Nov. 17 to finish and certify the results.
If every mail-in ballot comes in and every walk-in and mail-in ballot were a Mapp vote, it would not be enough to change the outcome.
Tuesday night and Wednesday, Mapp and his campaign said they wanted to see precinct-level data and claimed there were "peculiarities." The precinct-level data was issued Wednesday afternoon. On Thursday the Mapp campaign said Pennsylvania-based political consultant Ken Smukler had advised him not concede.
"Because of some peculiarities during the Election Day and how results were reported, Smukler advised Ken Mapp not to concede the race until the Board of Elections release these records and they are examined by experts in voter fraud and irregularities," Mapp public relations director Lisa Posey wrote in a statement to the press.
She described Smukler as "a nationally recognized expert in ballot security and election protection who has testified before the Carter-Baker Commission on Federal Election Reform."
News reports available online refer to Smukler variously as a paid campaign consultant and a Pennsylvania "political operative." In 2005, the Washington Post reported Smukler was shopping around a political reality show called "Red and Blue." In 2008, Philadelphia Magazine reported Smukler was again shopping the same reality show. A company he headed operated a toll-free voter information and complaint hotline from 2004-2008.
The one specific "peculiarity" cited by the campaign was what Mapp Campaign Director Eugene "Doc" Petersen referred to as the "startling news" that cartridges in the voting machines at Joseph Gomez Elementary School on St. Thomas failed and were opened and counted manually. St. Thomas/St. John Board of Elections Chairwoman Lorna Thomas has confirmed several cartridges were counted manually, slowing the St. Thomas count Tuesday.
Precinct data from the V.I. Elections Office for Gomez shows deJongh with 772 votes to Mapp at 689. If every single person who voted at Gomez actually voted for Mapp, deJongh would still win by more than 2,000 votes.
Concession speeches have historically served as an opportunity for the losing candidate to display sportsmanship and character, but are not actually a part of the election process. Under V.I. law, Mapp can request a recount within seven days after the final count is certified. To do so, he would have to submit a petition to the two boards of elections showing, according to the V.I. Code, specific evidence of an inaccurate count or of fraudulent voting and that "a recount of the ballots cast in the district will affect the nomination or election of one or more candidates."
Based on the evidence presented, the boards would then vote on whether or not to hold a recount. Nationally, recounts have typically been held when the outcome was close, unlike Tuesday's results.
In response to the announcements that Mapp would not concede, the Source sent the Mapp campaign several requests for information Thursday and Friday. The repeated requests included: why they found the manual counting of several cartridges "startling;" whether and why a manual count would suggest an error in the count; specific evidence of any actual error in the vote count and how that error, if any, had an arithmetical possibility of eliminating deJongh's nearly 4,000 vote lead. Mapp was also asked if he meant to demand a recount or contest the election or intended only to forgo a concession speech.
As of press time Friday, the Mapp campaign had not responded to those information requests nor provided any evidence of any error in the vote count.