Local news — St. Thomas
DeJongh-Francis to Return for Second Term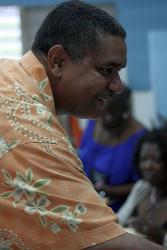 According to the unofficial numbers from Tuesday's General Election, incumbents led the way in both the gubernatorial and St. Thomas-St. John Senate races, with the only open slot -- left vacant by Sen. Adlah "Foncie" Donastorg's bid for governor -- being snapped up by newcomer Janette Millin-Young.
Voting machine cartridges didn't start trickling into Elections offices on St. Thomas until closer to 8 p.m. as officials sat waiting for residents to finish casting their votes at the Curriculum Center and another polling station on St. Croix that were both experiencing long lines. The judges are still required to allow those residents to vote, even though the polls officially close at 7 p.m., Elections board members said.
Even by 10:30 p.m., the numbers were still updating, and St. Thomas-St. John Elections board chairwoman Lorna Thomas explained later that the votes from Joseph Gomez Elementary School had to be counted manually, since there were problems with the electronic cartridge. The board will begin investigating the issue Wednesday, but in the meantime, released an unofficial set of results to the media.

Those figures, which still have to be certified once all provisional and absentee ballots are counted, showed the team of Gov. John deJongh Jr. and Lt. Gov. Gregory R. Francis pulled out with a solid 3,955-vote lead over their opponents Kenneth Mapp and Malik Sekou by the end of the night.
The race appeared to be close when the first cartridges were counted, but deJongh and Francis took a huge jump about 45 minutes into the counting, when they pulled out with 8,015 votes, while Mapp and Sekou lagged behind with 6,591. After that, the pace was steady, and unofficially finished out with deJongh and Francis garnering 17,535 votes while Mapp and Sekou pulled in 13,580.
Speaking from St. Croix Tuesday evening, deJongh said the win felt "extremely good," capping off a very long campaign season and three-and-a-half years' worth of solid work.
"It just confirms that we're on the right path, that we're doing the right things," he added.
DeJongh said his agenda isn't going to change much the next time around, with emphasis still being placed on law enforcement issues, economic development opportunities and education. And after laying the foundation for growth during his first term, deJongh said he expects the success of those initiatives and programs to be "much more intense" as the administration continues to push them to the next level.
Sitting down with his advisors and figuring out what changes need to be made within his cabinet, or in various leadership positions, is another next step, the governor said. But in the meantime, the returning team is taking in the results on St. Croix before heading over to celebrate at their St. Thomas headquarters.
Once again leading the St. Thomas-St. John Senate race this year was Sen. Shawn-Michael Malone, who came out with 8,296 votes. Close on his heels were Sen. Carlton "Ital" Dowe, with 7,642 votes, and Millin-Young, who rounded out the top three with 7,584 votes.
"It's quite an accomplishment to be able to sit in with all the incumbents," Millin-Young said during an interview at the Elections offices. Pushing an agenda that has education and small business development as top priorities, Millin-Young added that her first step coming into the Senate would just be to listen and get input from the community on what kind of changes they're looking for.
One thing close to her heart, however, is getting women's issues back to the forefront, which Millin-Young said she would be pursuing with the two other female candidates -- Sen. Nereida Rivera-O'Reilly and Alicia "Chucky" Hansen -- who picked up wins on St. Croix.
As for the rest of the race, the players were constantly in flux early on -- putting newcomers Tregenza Roach, Lisa Williams and Clarence Payne into the mix -- before settling into a final seven.
Coming in fourth was Sen. Louis P. Hill with 7,090 votes, while the fifth slot went to Sen. Celestino A. White Sr., who picked up 6,322 votes. The sixth and seventh slots went to Sens. Alvin Williams and Patrick Simeon Sprauve, who brought in 6,187 and 5,568 votes, respectively.
Payne still dangles in the eighth spot, not far behind Sprauve with 5,197 votes.
Incumbents also won the delegate to Congress and senator-at-large races by large margins, with Delegate Donna Christensen -- sharing the field with three competitors -- pulling in 18,584, or 71.2 percent, of the votes cast. Trailing in second was St. Croix attorney Jeffrey Moorhead, with 4,880 votes, while Vincent Danet picked up 2,223 votes, and Guillaume Mimoun got 397 votes.
Speaking Tuesday, Christensen said she was also following what was going on in the national elections to get a better idea of what "we will be facing in the next Congress."
For herself, she said she would continue to work to enact President Barack Obama's agenda in the next Congress.
"The president's agenda is critical to us here in the Virgin Islands," she said, citing health care reform, energy policy and lessening dependence upon fossil fuel, education, remittance of gasoline taxes to the territory and a string of other issues where she feels Obama's policies and those of the Democratic Congress are beneficial to the territory.
"I am looking forward to getting my national heritage area for St. Croix actually designated, so money will come in for preservation and to enhance the natural and tourist product of St. Croix," she said.
With Republicans taking over the House of Representatives, she expects the work to be a little harder but doesn't expect the agenda to change.
Senator-At-Large Craig W. Barshinger also toppled opponents Alecia Wells and Lorelei Monsanto with a whopping 14,955 votes. Speaking later, he said the top priorities on his agenda were continuing to focus on lowering Levelized Energy Adjustment Clause (LEAC) rates and creating a workable GPS mapping system for the territory.
"I'm very honored to have the people's support -- it shows that they're really interested in the issues we stand for, such as lowering the cost of electricity," Barshinger said later. "And we're hoping that these are things that we can get done soon, maybe in a year, instead of stretching them out four or five years, because the people are really looking for measurable results."
Winners in the St. Thomas-St. John board of elections race were Wilma Marsh Monsanto and Claudette Georges, while Harry Daniel ran uncontested for St. John.
One final Elections note: There are still 25 provisional ballots to be counted for the district, along with 407 walk-in absentee ballots. Elections officials said 264 ballots were picked up from the St. Thomas offices, while 192 mail in absentees were sent out.