Troy Titley, 36 of St. Thomas, made his initial appearance Friday before U.S. Magistrate Judge Ruth Miller after being charged by indictment in the March 25 robbery and police standoff at the Lockhart Shopping Center McDonald's.
Mohammed Jubran, 27, of St. Thomas, was sentenced Thursday to 21 months in prison, and co-defendant, Raji Yusuf, 30, of Puerto Rico, was sentenced to 27 months, both for trafficking in firearms.
A St. Thomas man told police he was parked on the side of the road at the top of Raphune Hill Monday afternoon making a phone call when a passerby stopped and shot him twice.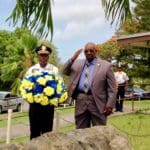 Delroy Richards said he was closely connected with six of the seven officers whose graves were visited in the morning as part of National Police Week observance.
A 35-year-old man identified as Alldix Callwood was killed in a shooting shortly after noon Tuesday in the Smith Bay area, the V.I. Police Department reported.
Jeffrey Javier, 23, was pronounced dead shortly after midnight Sunday morning after being shot multiple times in the Contant area.
Melvin Petersen, 55, of St. Thomas, was sentenced Wednesday to 31 months in prison for possession of cocaine with intent to distribute, acting U.S. Attorney Joycelyn Hewlett announced.
A minor was shot in the head late Sunday in the Contant Knolls area, according to the V.I. Police Department.
A prisoner at the Golden Grove Adult Correctional Facility was found unresponsive in his cell and is being considered a possible suicide.
The V.I. Police Department on Friday arrested Brian E. Steele and charged him with third-degree assault after an incident in a Charlotte Amalie sports bar in which the bar owner said he was threatened with a machete and handsaw and shot the suspect.