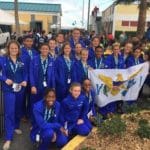 The U.S. Virgin Islands sent a delegation of swimmers between the ages of 11-17 and three officials to participate at the XXXII CARIFTA (Caribbean Free Trade Association) Aquatic Championship Games in Nassau, Bahamas.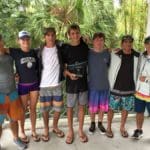 The Antilles Sailing Team will be moving on to yet another national competition next month after taking second place in the prestigious Southern Atlantic Interscholastic Sailing Association's Mallory Fleet Race Qualifiers.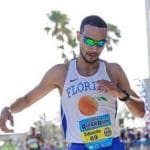 The V.I. Olympic Committee and the V.I. Track and Field Federation are putting their support behind V.I. National Track and Field Team member Eduardo Garcia to be the next V.I. Olympian to compete in the Olympic Marathon.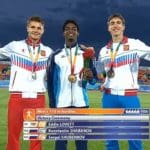 Eddie Lovett achieved top IAAF World Ranking to No. 6 on the list with his first place 13.52 performance in Jacksonville, Fla., this past weekend.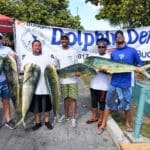 The catch of a 34.06-pound dolphin fish (mahi-mahi) earned St. Thomas' Angela Berry the title Top Angler and a $1,000 cash prize at the V.I. Game Fishing Club's 22nd Dolphin Derby.
The 15th Annual Against the Tide in the Virgin Islands: Swim for Breast Cancer was held on Saturday, April 8. The following are the results.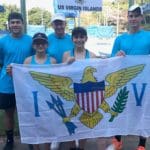 The 2017 Junior Davis Cup and Junior Fed Cup just ended in El Salvador, and once again Virgin Islands boys made a strong showing. This was the first year V.I. girls competed.
There are basically three serviceable tracks in the V.I., and of the three, none are usable for training or competition for the 2017 season.
Twelve schools participated in the 2017 Rotary Sunrise Kids Triathlon on Sunday, April 2.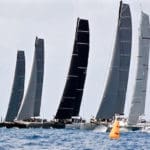 The St. Thomas International Regatta got underway Thursday with the Round the Rocks Race, as 23 boats took their start on a 21-nautical mile course that circumnavigated the U.S. Virgin Island of St. John counter clockwise.