V.I. Next Generation Network Inc. (viNGN) encourages everyone to #LearnSomethingNew every day and has published a free e-book and guide to getting a business online.
"After 40 years with Erno Laszo in the Virgin Islands, I am announcing my retirement," said Gesine Locker.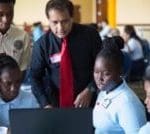 Scotiabank International has invested $2,000,000 in Junior Achievement's (JA) project Road to Success, which is one of the largest organizations in the world devoted to preparing youth to be successful in today's global economy.
The Ritz-Carlton, St. Thomas has announced it is the recent recipient of two prestigious honors: "Best Hotels in the Caribbean" and "Best Caribbean Resorts," The resort is the only representative from St. Thomas on both lists.
Sea Star Holdings Inc., the parent company of Seaborne Airlines located in Puerto Rico, has announced the appointment of Ben Munson as its acting CEO and other appointments.
Innovative customers throughout the territory are being affected by a failure with Centurylink's backhaul carrier due to a high level, transport outage on the continental U.S. that began on Monday, Jan. 30.
Innovative Cable TV recently received notice that the CLOO Network will permanently discontinue delivery of its programming effective Feb. 1. CLOO, which airs on Channel 315.
The U.S. Small Business Administration (SBA) is inviting funding proposals from non-profit organizations; state, local and tribal government agencies; and institutions of higher learning to provide "Boots to Business" entrepreneurship training to service members, military spouses and veterans.
Kellerhals Ferguson Kroblin PLLC (KFK), a leading Virgin Islands law firm, has announced that David A. Bornn Esq. has become a partner of the firm.
Maria Contreras-Sweet, administrator of the U.S. Small Business Administration (SBA) and a member of President Obama's cabinet, has released her SBA Cabinet Exit Memo, highlighting the agency's record of accomplishments for America's small businesses during the eight years of the Obama Administration.