The V.I, Bureau of Internal Revenue informs all timeshare owners and timeshare plan managers that a new environmental/infrastructure impact fee will be imposed in the territory.
The U.S. Small Business Administration (SBA) approved $4.9 million in loans to Virgin Islands small businesses during the first six months of fiscal year 2017.
Innovative and Choice Wireless, the largest telecommunications provider in the U.S. Virgin Islands, is entering a new era with a new brand: Viya.
West Indian Company Ltd. has announced that Clifford F. Graham will assume the position of president and CEO on Monday, May 1.
The U.S. Virgin Islands Economic Development Authority and V.I. Department of Planning and Natural Resources are partnering in an effort to assist local, small manufacturers in securing locations for their business.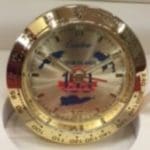 The Virgin Islands Transfer Centennial Commission and Cardow Jewelers have announced the arrival of the limited-edition VI Centennial 2017 timepieces.
V.I. Next Generation Network Inc. (viNGN) encourages everyone to #LearnSomethingNew every day and has published a free e-book and guide to getting a business online.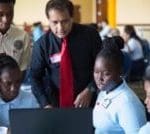 Scotiabank International has invested $2,000,000 in Junior Achievement's (JA) project Road to Success, which is one of the largest organizations in the world devoted to preparing youth to be successful in today's global economy.
Sea Star Holdings Inc., the parent company of Seaborne Airlines located in Puerto Rico, has announced the appointment of Ben Munson as its acting CEO and other appointments.
Innovative, the leading telecommunications provider in the U.S.V.I. and one of the largest contributors to schools and non-profit organizations in the territory, announced that two students were selected as recipients of the Albert A. Sheen Scholarships, and four students were awarded Innovative-UVI Scholarships.