V.I. Next Generation Network Inc. (viNGN) encourages everyone to #LearnSomethingNew every day and has published a free e-book and guide to getting a business online.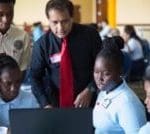 Scotiabank International has invested $2,000,000 in Junior Achievement's (JA) project Road to Success, which is one of the largest organizations in the world devoted to preparing youth to be successful in today's global economy.
Sea Star Holdings Inc., the parent company of Seaborne Airlines located in Puerto Rico, has announced the appointment of Ben Munson as its acting CEO and other appointments.
FirstBank extends congratulations to Bernardo Ortiz, the winner of its summer "Pay off Your Loan" contest. As the lucky winner, Ortiz will have...
Innovative, the leading telecommunications provider in the U.S.V.I. and one of the largest contributors to schools and non-profit organizations in the territory, announced that two students were selected as recipients of the Albert A. Sheen Scholarships, and four students were awarded Innovative-UVI Scholarships.
The U.S. Virgin Islands Economic Development Authority (USVIEDA) has announced that 12 students will graduate this week from a six-week summer program designed to...