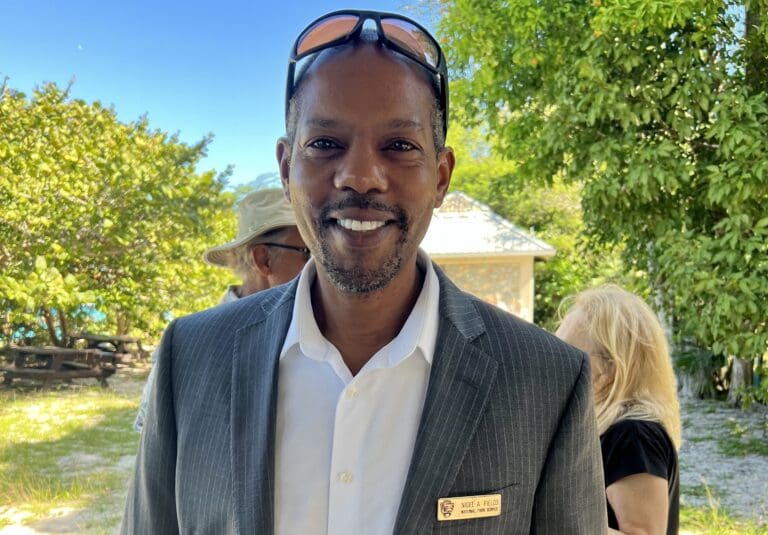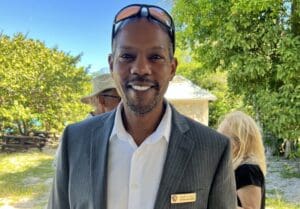 Virgin Islands National Park Superintendent Nigel Fields is leaving after nearly five years on the job and will be replaced by current Deputy Superintendent Scott B. Simmons, who will serve in an acting capacity beginning July 30, the National Park Service has announced.
Fields will return to the U.S. Environmental Protection Agency in a senior executive position after leading approximately $50 million in recovery efforts on St. John following hurricanes Irma and Maria, the twin Category 5 storms of 2017 that devastated the islands.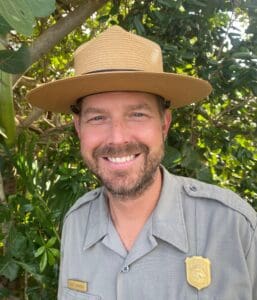 Fields arrived on a temporary assignment in December 2018 and was selected for the permanent superintendent position in March 2020, according to the Park Service press release announcing the change in management.
Fields oversaw multiple hurricane recovery projects, coral reef restoration efforts, the redevelopment of Cinnamon Bay Campground and the redevelopment and re-openings of the Cruz Bay ballfield and playground in partnership with Virgin Islands Department of Sports, Parks, and Recreation and the Friends of Virgin Islands National Park, respectively.
He also is credited with expanding partnerships and advancing community engagement in the redevelopment options for the Caneel Bay area and assisted the government of the Virgin Islands with its land exchange request for the purpose of constructing a new pre-K through 12th-grade public school.  This long-standing goal would create the first public high school on St. John.
"It's been an honor and career highlight to work with such talented, passionate professionals," Fields said in a statement. "I look forward to seeing the continued recovery and progress the park and community will make together."
"Nigel has provided effective and consistent leadership in the critical years of hurricane recovery," said NPS Regional Director Mark Foust. "His ability to manage complex projects has been instrumental in moving the park forward. He will be missed."
The Friends of Virgin Islands National Park praised Fields for his "genuine care and concern for the community and the mission of the National Park Service. We thank him wholeheartedly for his service and collaboration and wish him well," the organization's Executive Director Tonia Lovejoy said in a statement Saturday.
"Here at Friends, we remain focused on our mission to support the Park's needs. We look forward to working with Acting Superintendent Simmons in his new capacity and will continue to work with him and the entire Park team to protect and preserve the natural and cultural treasures in your Park. Our collective expertise and can-do attitude will continue to add capacity to park operations, address challenges, and make the most of the available resources," said Lovejoy.
Before arriving for his assignment on St. John, Fields served as the chief of Interpretation, Education and Volunteers at multiple park locations over an eight-year period. Prior to his NPS career, he was an environmental health scientist and supervisory biologist with the EPA for 14 years.
Simmons joined VINP in 2021 for a one-year assignment and was later selected as the permanent deputy superintendent, managing park operations. He is a civil engineer by training and an experienced park manager. He served in the National Park Service's Bevinetto Fellows program. He also has worked for the Department of Interior's Great American Outdoors Act Program Management Office, the Assistant Secretary of Fish and Wildlife and Parks, and the NPS's Office of Legislative and Congressional Affairs.
Prior to his selection as a Bevinetto Fellow, Simmons was the assistant director of Design and Construction for the White House and President's Park. He has also served as the branch chief of Facility Maintenance for the National Mall and Memorial Parks and as a project supervisor for the National Capital Region.
Simmons is a graduate of the NPS's award-winning Facility Manager Leaders Program and was a recipient of the Roger Kennedy Fellowship that allowed him to obtain a Contexts of Environmental Policy Graduate Certificate from George Washington University.
Simmons, his wife Beth and their two children enjoy reading and experiencing the outdoors on St. John.