Updated 6/5/23 at 12:22 a.m. AST
VI SOURCE WEATHER UPDATES
6/3/23: A NEW Weekly Weather Update Video is available! Click here!
Series: "Extreme Weather in the Caribbean"

MONDAY'S FORECAST
! EXCESSIVE HEAT WATCH IN EFFECT REMAINS FOR PORTIONS OF PUERTO RICO
Happy Monday!
Monday will be sunny, with a slight chance of isolated showers. Saharan dust will be arriving in the territory, creating hazy conditions. The high temperature will be approximately 87°F, 30.5°C, with winds out of the south-southeast at about 15 to 18, gusting up to 23 mph. The chance of rain on Monday is approximately 10%.
Monday night will be mostly clear, along with haze. The low temperature will be around 80°F, 26.6°C, with winds out of the southeast at about 10 to 13 mph.
Below: Infrared satellite imagery obtained at 12:00 a.m. AST on Monday indicates mostly clear skies around the USVI and Puerto Rico.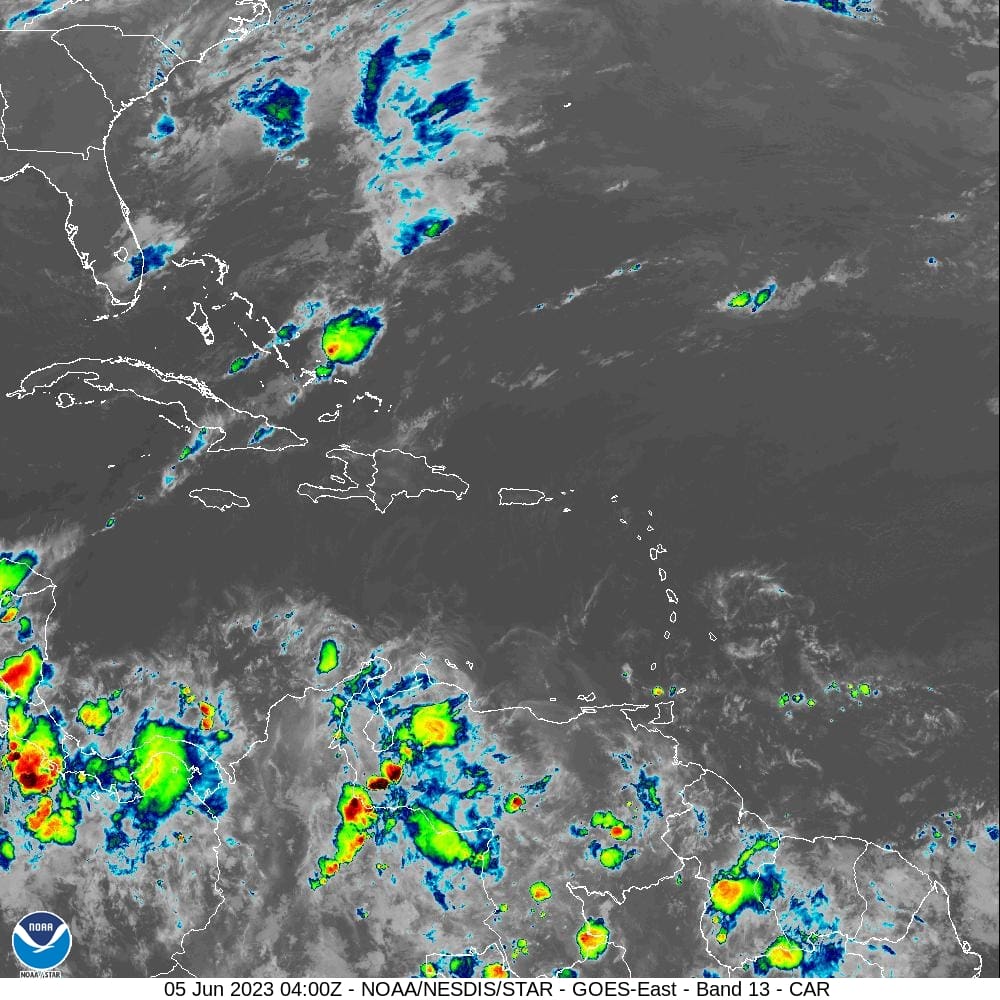 MARINE WEATHER FORECAST
On Monday, seas will be 1 to 3 feet, with a swell period of 6 seconds. Winds will be out of the south-southeast at around 10 to 15 knots.
On Monday night, seas will be 1 to 3 feet, with a swell period of 7 seconds. Winds will be out of the southeast at approximately 10 to 15 knots.
The water temperature is approximately 82.5°F, 28.1°C.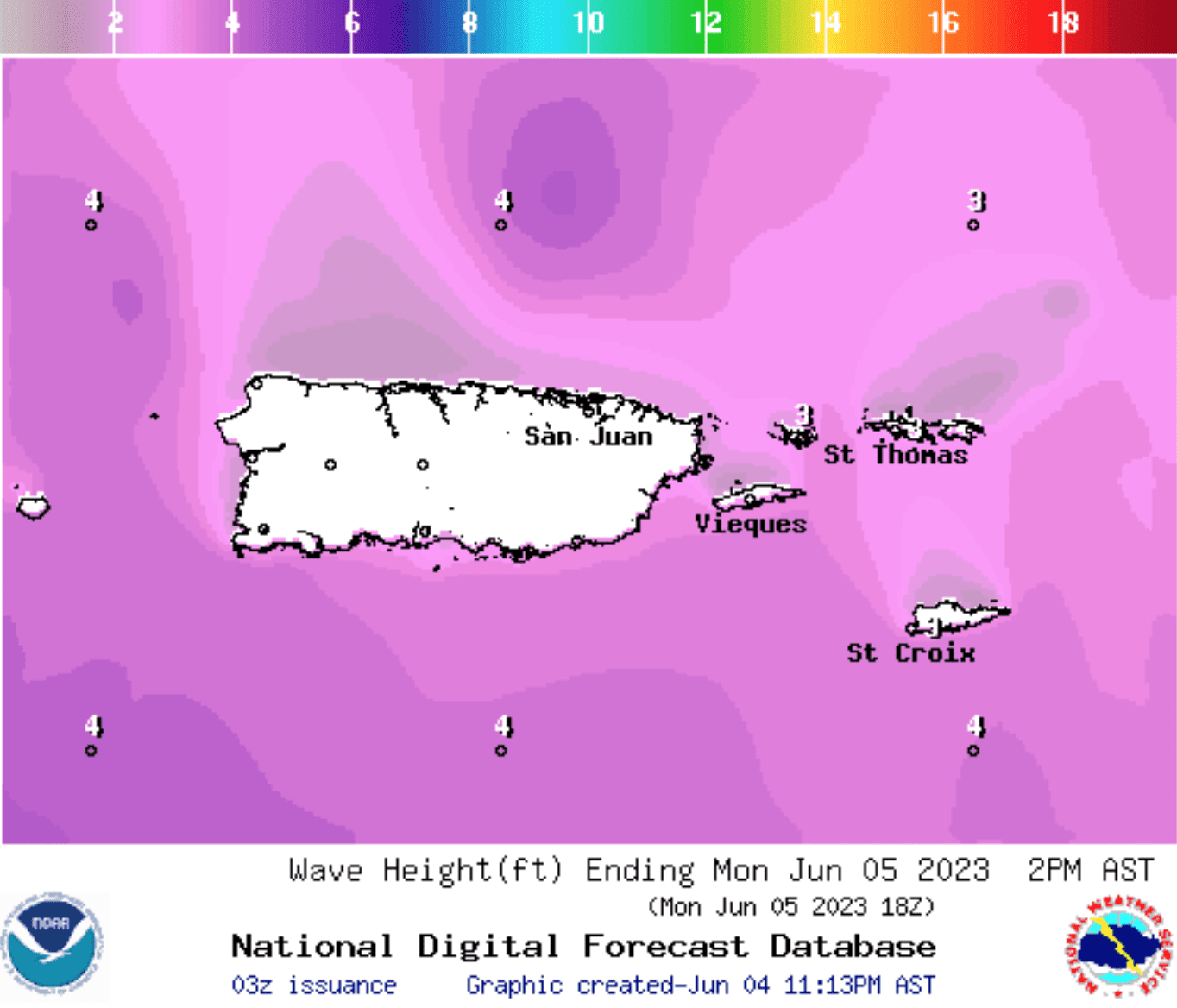 HAZARDOUS CONDITIONS
Rip Currents: The rip current risk is expected to be low across the majority of the region. Regardless, it's is always important to remain vigilant. Learn about rip current safety in an interview between the NWS and the VI Source here.
Excessive Heat: The heat index is expected to be high on Monday. Portions of Puerto Rico will continue to be under an "Excessive Heat Watch." Be sure to stay hydrated.
TROPIC WATCH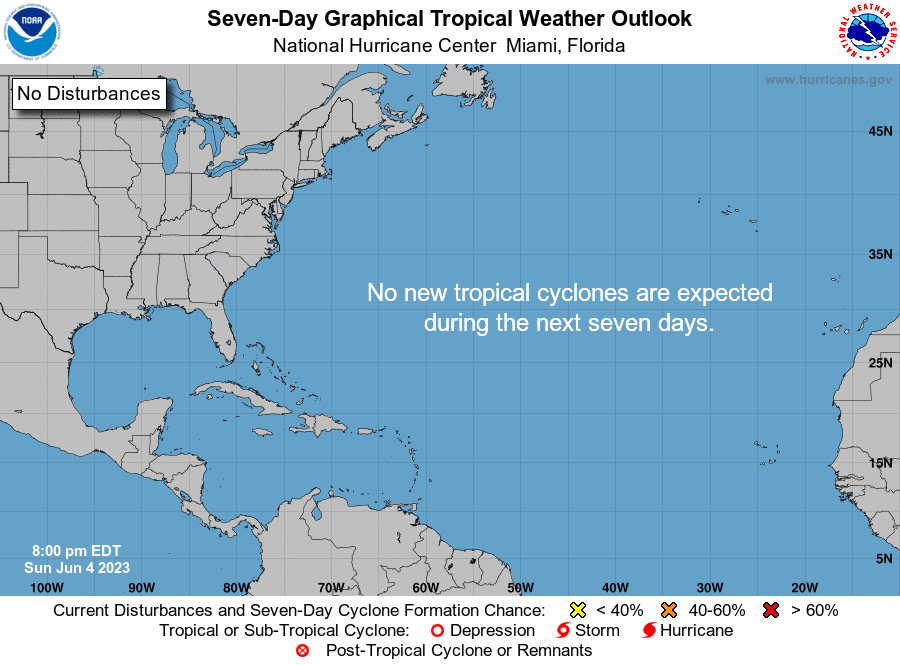 Tropical Activity: At this time, the NHC does not expect any significant tropical development over the next seven days.
The 2023 Atlantic Hurricane Season officially began on Thursday, June 1. Now is the time to prepare for hurricane season.
Days Remaining in the 2023 Atlantic Hurricane Season: 178 Days
OBSERVATIONS
Sunrise: 5:44 a.m.
Sunset: 6:54 p.m.
Ocean water temperature: 82.5°F, 28.1°C.
UV index today: 10+ out of 10 (EXTREME)
Sunday's high temperature: 88°F, 31.1°C
Sunday's low temperature:  81°F, 27.2°C
Preparation for extreme weather events in the Caribbean, such as earthquakes and tropical cyclones, is essential. Residents and visitors in the USVI are encouraged to stay updated on weather events on the V.I. Source Weather page and sign up for alerts from the National Weather Service and the Virgin Islands Territorial Emergency Management Agency.