The catch of a 37.0-pound dolphin fish (mahi-mahi) earned St. Thomas' Nathan Gatcliffe the Top Angler prize at the Virgin Islands Game Fishing Club's Annual Dolphin Derby held on April 2.
Fishing aboard the St. Thomas-based 37' center console, Double Header II, with Gatcliffe's father, Jonathan, at the helm, Gatcliffe caught his winning fish north of St. Thomas.
"We headed north and didn't see any fish at first, so we said let's keep going until we do. Finally, out in the deep water, we saw some birds. It was about 8:30 a.m. that we caught our first fish, the little one, the 13-pounder. Then, it was over an hour later that we hooked up with a triple header of mahi. We focused on the biggest of the three and caught it. We had everything in the boat by 10 a.m. We kept fishing, kept trolling and trying to catch another big one, but didn't see anything else the rest of the day," says Gatcliffe.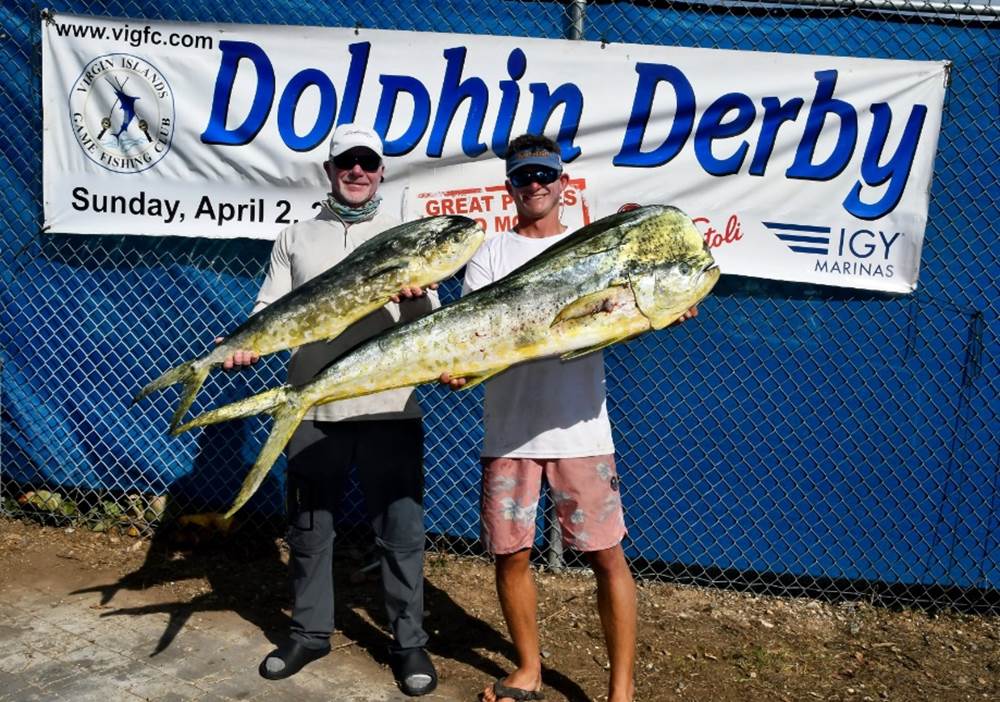 The father and son duo were the last to register for the tournament on Friday at the Captain's Meeting held at the Virgin Islands Game Fishing Club in Red Hook. A forecast for rough seas and the unavailability of several fishing friends almost kept the duo ashore. However, the last to register proved a charm in fishing first in the Top Angler award. Additionally, Double Header II finished as Top Boat for the most weight of dolphin fish caught.
In other awards, KJ Terry, fishing on Jolly Hull, caught the second largest dolphin fish, at 32.0 pounds, and Forrest Robertson reeled in the third largest with his 22.5-pound catch on Just Fish.
The Virgin Islands Game Fishing Club's Annual Dolphin Derby Tournament was a great first-time fishing experience for two Marine Vocational Program students who fished with the team aboard the local charter boat, Marlin Prince.
"I've enjoyed many marine experiences, but this was the most invigorating because we were out for the whole day and the seas were rough," says 17-year-old Ashaina Haile. "It was a fun experience. I'd do it again."
In total, 10 boats from St. Thomas and St. Croix fished the tournament, landing a total of 156.5 pounds of dolphin fish. An Awards Ceremony at IGY's American Yacht Harbor Marina with music, hamburgers and hotdogs, and lots of camaraderie created the perfect end to this popular annual event.
Looking ahead, the Virgin Islands Game Fishing Club will host its Kid's Fishing Tournament on September 30 and its Wahoo Windup on October 22.
The Virgin Islands Game Fishing Club appreciates the sponsorship and support of IGY's American Yacht Harbor Marina; Lattes in Paradise; Island Time Pub; Neptune Fishing Supplies; Stoli Vodka and Bacardi Rum, distributed by the West Indies Company; and VI Awards & Engraving.
For more information, call (340) 775-9144, Email: usvigfc@gmail.com, or visit: www.vigfc.com