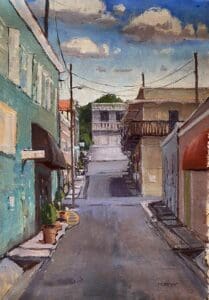 Mango Tango Art Gallery opens the dynamic "Brian Murphy: The Quick and Loose Brushstroke Exhibition" at a reception from 5:30-8:30 p.m., Saturday, March 25. The show includes oil-on-canvas and oil-on-paper paintings that range in size from 8 by 8 inches to 27 by 27 inches.
Brian Murphy moved to St. Thomas after graduating from Savannah College of Art and Design. He found the Caribbean temperate climate, the laid-back lifestyle and the natural beauty in his surroundings, to be catalysts for a budding artist.
Soon he was recognized for his technical finesse in capturing an impression of landscapes, seascapes and street scenes. After several years here, he and his young family moved to North Carolina, prompted by a job opportunity for his wife. In his new locale, he competes successfully in plein air competitions, while still enjoying an annual show at Mango Tango.
Murphy describes his artistic process in the current show:
"The natural beauty of St. Thomas and surrounding islands never fails to amaze me. The architecture, people, colors and sounds all inspired this new batch of paintings. While working on them, I found myself reflecting on those quieter moments I can recall from my time spent living on St. Thomas — lounging on an empty beach, sailing through turquoise waters, or catching a beautiful sunset. It all came back to me as I painted. A truly magical place. Technically, I wanted to render things loosely, keeping my marks fresh and applying each brushstroke with purpose and confidence."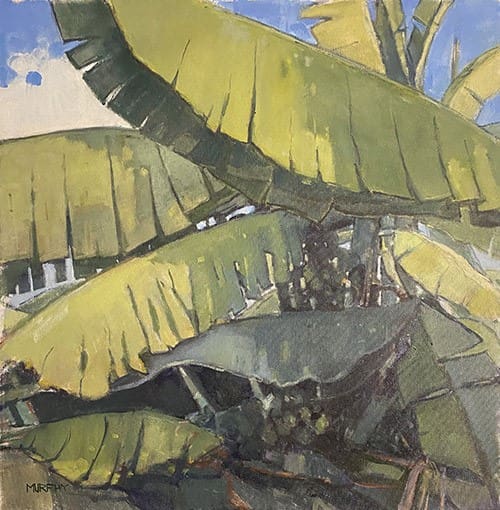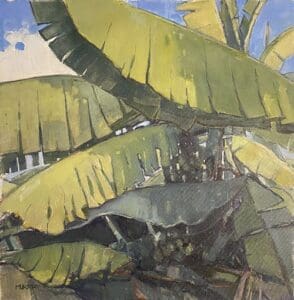 The evening will include soca and calypso music by steel pan virtuoso Morgan Rael and conga maestro Neyere Francis in the parking lot where spirits and appetizers will be served.
For more information, view the month-long show on the gallery's website at www.mangotangoart.com or call 777-3060.