Former V.I. Attorney General Vincent Frazer has been publicly reprimanded for his handling of a real estate transaction in which escrow funds were improperly disbursed, according to the Supreme Court of the Virgin Islands.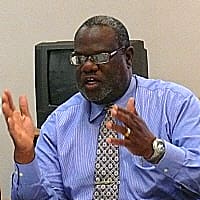 The court's Board on Professional Responsibility issued the public reprimand on Monday. Beyond the public admonishment, Frazer must also return the disputed funds to escrow and complete six hours of continuing legal education on trust account management or face a six-month suspension, the board stated in a news release.
The reprimand stems from a real estate transaction in which Frazer represented the seller, the release stated. According to court documents, the buyer alleged that a dispute arose as to whether they had forfeited their good faith deposit of $10,000, which they claim Frazer unilaterally disbursed to his client and deducted his attorney fees.
In making a case for a public reprimand, the court's Office of Disciplinary Counsel submitted evidence to the board that Frazer "was negligent in dealing with the escrow funds. As such, the third party was harmed by the denial of access to those funds before the dispute could be resolved."
The board — consisting of attorneys Kevin Rames, Rosalie Simmonds and James Hymes — agreed with that assessment and was unanimous in its decision to publicly discipline Frazer.
Frazer waived his right to a hearing before the panel, admitted that he violated rules governing client trust accounts and professional conduct, and consented to the discipline, according to court documents.
The board noted that under the court's standards, "a reprimand is 'generally appropriate' when the lawyer's conduct is negligent. Here there is no suggestion the Respondent's conduct rose to the level of a 'knowing' or 'intentional' violation. The Respondent was of the belief that the contract terms allowed for the disbursement. Therefore, it is not necessary to increase the sanction to the level of suspension or disbarment."
Frazer served as attorney general of the U.S. Virgin Islands from 2006 to 2015 under Gov. John de Jongh Jr. He is currently in private practice on St. Thomas, according to the V.I. Bar Association, with a focus on real estate, small business, trusts, estates and probate.