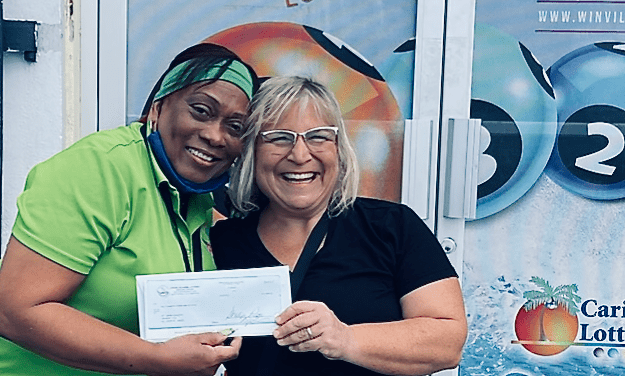 "Where words fail, music speaks."
With these words, LaToya Williams, outreach manager for the Virgin islands Lottery, announced an award of $10,000 to Sing St. John, a community singing organization that embraces inclusion, honors cultural traditions and provides joyful enrichment to children, adults and seniors.
Since it formed in 2018, Sing St. John has grown to include the St. John Recovery Choir, the All-Island Children's Choir, Ocama (Select Children's Choir,) the Senior Singalong, summer youth camps, and other initiatives. It has continued to grow in spite of obstacles to rehearsing and performing in person brought on by the pandemic.
The organization, directed by Kristen Carmichael-Bowers, is now preparing to produce the first live holiday celebration in the park since 2019. The free Cruz Bay event on December 23 will include performances by musical organizations and church choirs from St. John and a carol sing.
With its grant, the V.I. Lottery recognized the organization's mission to support cultural awareness, connection, and resilience through singing programs and events.
"The VI Lottery supports Sing St. John and the extraordinary programs that they offer to our community," Williams said. "Sing St. John provides a meaningful platform for Virgin Islanders to express themselves through their voice. Whether a person participates in the choir or attends a performance, they are uplifted by the experience."
While the Virgin Islands Lottery expressed its appreciation to Sing St. John for their efforts and pledged to continue to sponsor organizations that provide a pathway for artistic expression, Carmichael-Bowers said Sing St. John is equally grateful to the V.I Lottery.
"The grant from the V.I. Lottery will be used to support elements of all of our programming and the organization as a whole," she said.
The Lottery's generous donation is arriving at an auspicious time. Sing St. John is closing in on the final weeks of its annual appeal, hoping to raise funds to fully match a $60K pledge from Martha and Dana Robes, which has a November 30 deadline.
For further information on the Virgin Islands Lottery, please go to https://www.winusvilottery.com.
For further information on Sing St. John, please go to https://www.singstjohn.org.