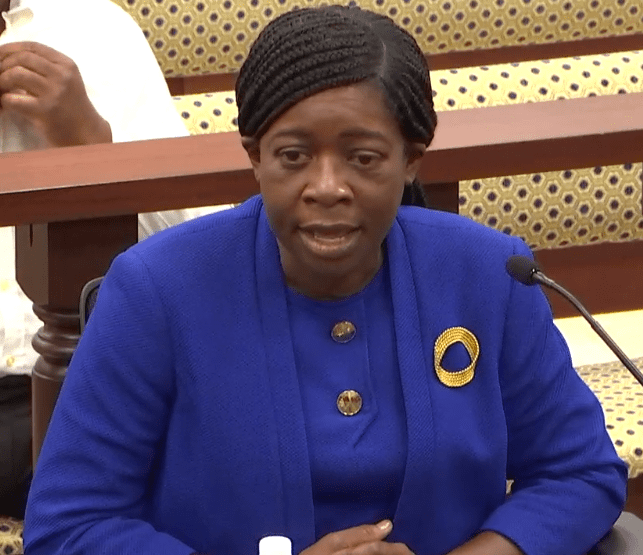 Dr. Rafael Garcia, who died in 2021, and Roselin Maud McFarlane, who died in February of this year, were the subjects of much praise at the Committee on Government Operations and Consumer Protection hearing Wednesday.
Resolutions recognizing Garcia for his years of service to the territory as a doctor and McFarlane for her contributions as an advocate of independent living for people with disabilities were passed unanimously with a favorable recommendation. The resolutions will be forwarded to the Rules and Judiciary Committee.
Miguel Andres Garcia, son of Dr. Garcia, as well as Deborah McFarlane Truitt, daughter of Roselin McFarlane, were present to testify at the hearing.
Miguel Garcia said retiring from medicine was one of the hardest decisions his father had to make. "The only job he ever wanted to perform was being a doctor and treating his patients."
Truitt testified, "When I think of my mother, the first qualities that come to my mind are God-fearing, giving, hard-working, and loving."  She added, "Everything she did in life was motivated by her love for God, family, and her community. Last December, I saw my Mom working hard from her hospital bed to make sure one of her clients got a wheelchair as she battled cancer. My mom was always a 'giver' from as far back as I can remember. I remember as a child having strangers at our dinner table during holiday meals."
But it wasn't just the family that had praise for the two honorees.
Charles Nibbs, a former police officer, testified that Dr. Garcia in 2017, with a timely diagnosis, saved the life of his wife Anita Osborne-Nibbs in 2017. Sen. Novelle Francis said he is a living testimony to the ability of the doctor and his dedication. Francis said his bout with cancer was detected early because of the efforts of Garcia during Hurricane Louie.
Sen. Samuel Carrion called Garcia a "neighborhood doctor" and "a people's doctor."
Sen. Franklin Johnson said advice from Garcia positively changed his own career.
Gerald Evelyn, director, Independent Living Group, said Roselin McFarlane played a big part in his life. He testified, "She put me to work in a way that helped me to overcome the depression of having lost my sight and helped to inspire me to achieve greater levels of independence and self-reliance. Volunteering with Ms. McFarlane was a launch pad into a rewarding existence where helping other persons became part of my purpose in this world." He added, "She was always encouraging and assisting the members toward self-sufficiency and advocacy for our rights. She brought in various speakers and managed to get computers and assistive software donated to the center."
Julien Henley, who is ADA coordinator for the Government of the Virgin Islands, testified concerning Roselin McFarlane, "I do hope her influence will be taken up by others in the territory, but especially on St. Croix to accomplish her unfinished goals. We must continue to empower persons with disabilities to continue to represent their needs, whether it is access to the many great venues and activities in the territory or if it is establishing better standards that allow for them to live complete lives."
Attending the meeting were Sens. Marvin Blyden, Novelle Francis, Kenneth Gittens, Javan James, Janelle Sarauw, Milton Potter, Franklin Johnson, Alma Francis Heyliger, Samuel Carrión, Carla Joseph, and Genevieve Whitaker.