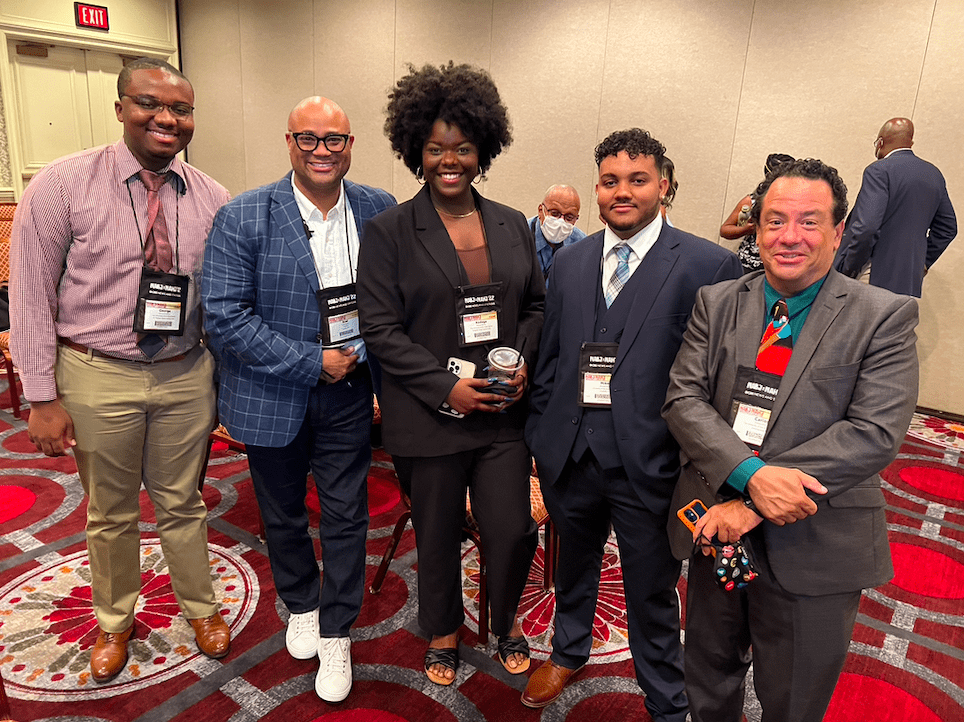 On Aug. 3, the National Association of Black Journalists (NABJ) 2022 Convention, a conference that attracts top leaders and influences in journalism, media, technology, business, health, arts, and entertainment, also attracted the attention of the executive board members of the UVI Association of Black Journalists.
President Nadege Barber, Vice President Michael Bell, Undergraduate Advisor George Francis, and Interim Treasurer Carlos Eaton had the opportunity to travel to Las Vegas, Nevada, and represent the University of the Virgin Islands at this prestigious event.
The NABJ Convention hosted several activities and workshops that discussed journalism, public relations, investigative reporting, leadership, and sports media. Over 4000 attendees were present with major news outlets such as CBS News, NBC News, ABC News, Chicago Sun Times, CNN, USA Today, and Fox News.
"This was an opportunity for everyone in attendance to meet with hiring managers for major news outlets and be interviewed right on the spot. It is a great honor to be selected to represent the University. We are the only HBCU in the Caribbean outside the continental United States, and many people do not know this", said Francis. "As a communications professional, this experience taught me that there is so much that can be done in the field of Journalism and Communications. You are not just limited to one career or job. You have options".
This event also enhanced Francis' leadership and social skills. "There were so many people in attendance I had no choice but to meet and interact with my fellow NABJ members as well as display the qualities of a young leader," he said.
Francis had the opportunity to network with Zainab Okolo, who serves as the strategy officer for the Lumina Foundation; Steve Crocker, the president of the Birmingham Association of Black Journalists; Eva D. Coleman, region III director for NABJ; Steward Curet, associate publisher for Texas Metro News; Cheryl Smith, NABJ Hall of Fame Inductee and publisher for Texas Metro News; Rod Carter, evening anchor for CBS 17 News and former NABJ region III director, and staff members from the Chicago Sun Times. News anchors Jerika Duncan for CBS News, Yamiche Alcindor for PBS News, Rachel Scott for ABC News, and the White House Press Secretary Karine Jean-Pierre were also present.
In addition to several workshops and the career fair, the NABJ convention hosted a Hall of Fame Induction and Luncheon. At this luncheon, NABJ Hall of Fame Inductee Michelle Agins had the opportunity to share her story about her dream to be a photojournalist and the challenges she faced. Today, Michelle Agins is an award-winning photojournalist for the News Times and a two-time Pulitzer Prize nominee. Hearing this story gave Francis assurance never to allow the word "NO" to be his first, second, and third answer; instead, he states, "Keep on pushing until you get a "YES."
Francis provided advice to students interested in journalism and media production. "Start small and work your way up. Be eager, passionate, humble, and know your worth. Accept constructive criticism and always find a way to improve your writing and speaking skills. Find a mentor. My mentor Sharon Honore really helped me get to where I am today", said Francis.
"Sit down and think about if this is a career you really want to get into. Journalism is a rewarding career and industry, but it is not for the faint of heart. Joining organizations like UVIABJ and NABJ can give you that exposure into what it is like to be a journalist or to work in the news industry", said Francis.